Porsche 918 Spyder looks meaner with set of attractive new wheels

SR Auto Group is responsible for the stylish change
The super-expensive Porsche 918 Spyder hypercar just had a design boost delivered by the specialists at SR Auto Group. What I like so much about them is the fact that they make everything effortlessly and eventually deliver great-looking cars. And even more, they do this with simple measures, like adding only perfectly chosen wheels or add-ons that not interfere in a bad way with car's overall design.
So, basically the Porsche 918 Spyder model stands at the forefront of modern technology and innovation. It actually does more: shows that a hybrid hypercar can be a display for what future could be.
SEE ALSO: Porsche 918 Spyder Goes for a Special Ride
The vehicle itself is driven by a V8 petrol engine, which generates a total of 608 hp (447 kW) and two special electric motors, that gives additional 129 hp (95 kW) and 156 hp (115 kW) respectively. To do the math for you, this makes a total of 887 hp (652 kW). The acceleration time from 0 to 100 km/h (62 mph) is measured at 2.5 seconds, while the top speed is 385 km/h (214 mph). Crushing force, isn't it?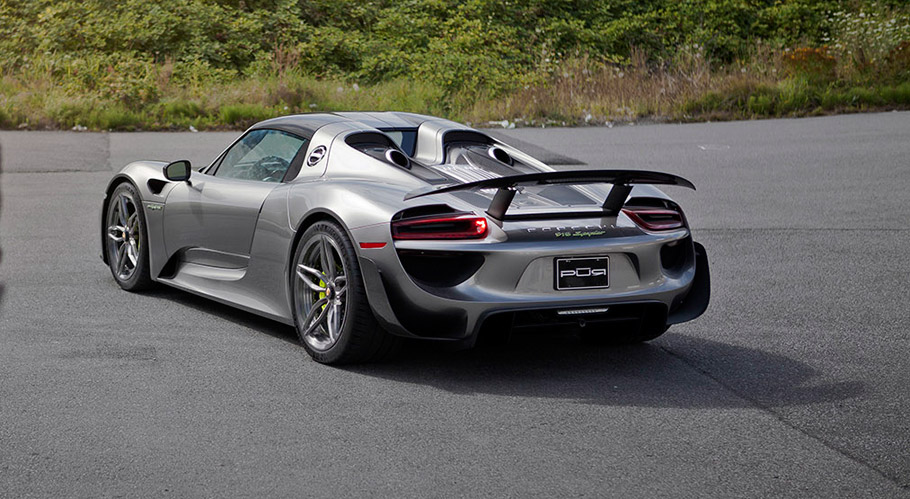 The change done by SR Auto is not big but gives a fresh take on the Porsche. It now rocks a good set of wheels: forged two-piece PUR RS23.M2 sized at 20-inches. They feature more subtle finish and feature gloss black diamond face with a matching inner barrel. Respectively big tires are also at hand.
Source: SR Auto Group