Skoda Fabia R5 Combi to Debut at Wörthersee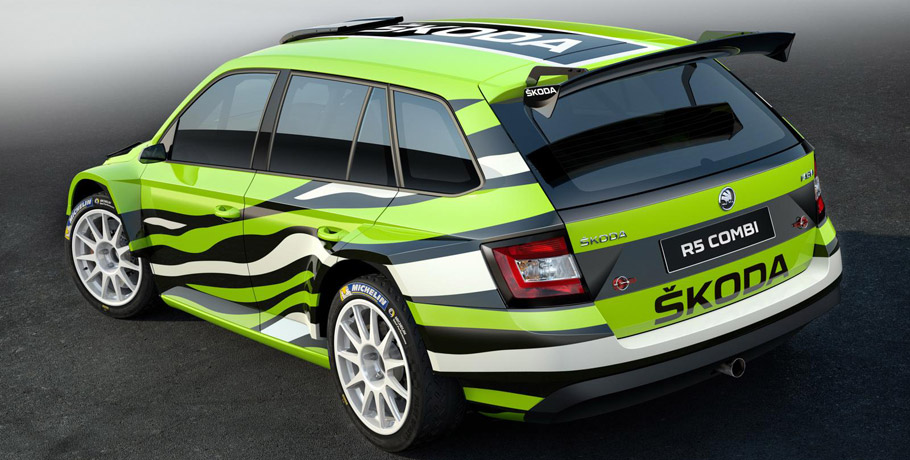 The Wörthersee meeting this year will be full of surprises. After the reveal of the Fabia R5, Skoda has announced that it will also display a Combi version of the model. In fact, at the meeting there will be exactly five Skoda racers and four sporty versions of the Fabia. Next to the aforementioned two cars, the visitors of the event will also see the FUNstar concept, the Fabia with Design package Red & Grey, the Octavia Combi RS 230 and Skoda's Crazy Rally Ride. However, we will have to wait until tomorrow to get more details and pictures of each car.
The Fabia R5 Combi rally show car will debut for the first time in Reifnitz delivering a real motorsport experience. Like its coupe sibling, it has this eye-catching exterior with green, white and black finish.
In addition, the model will be running on big 18-inch alloys, which are complemented by powerful front bumpers. What is more, the wide air intake is a testimony of vehicle's rallying ambitions.
SEE ALSO: SKODA FABIA R5 Promises Even More Victories
The grille is wide, it is finished in black just like the wing mirror covers. Flared mudguards and powerful doorsills further highlight car's racy attitude. At the back, this Fabia combi boasts enormous rear spoiler and huge bumper. There is also wide exhaust pipe in the centre.
The last detail about this car is that it will be powered by the 1.6-litre turbo engine, which has been taken from the Fabia R5 rally car. No words on the output, so we will definitely have to wait a little longer to get the whole picture. Probably the drivetrain will be connected to a five-speed sequential gearbox just like the rally version.
At last, Skoda will be also showing a special kind of racing experience at Wörthersee. Of course, those who will attend the event will have the opportunity of joining. Visitors will be able to participate in "Skoda's Crazy Rally Ride", which is a special racing track next to the stands. Those competing will go head-to-head in mini racing cars.
Source: Skoda