Senner Bling the Nissan Juke Nismo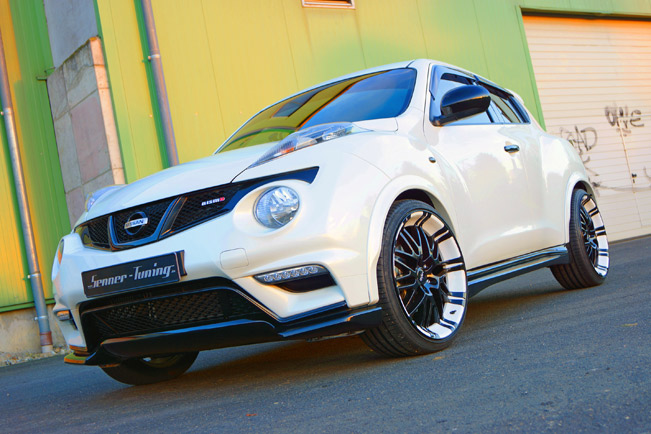 Senner pride themselves with their work on various Nissan 350Z and 370Zs. But anything that's worthy of the attention of Nismo is worthy of the attention of Senner. Enter the Nissan Juke Nismo – an already vicious powerhouse of aggressiveness, sportiness and testosterone.
The first thing you might notice about the Senner Juke is the prevailing black and white. It is an especially pronounced theme on the Oxigin Oxrock 14 wheels with a "white-wrap-refinement" on the rim well. We wouldn't call it refinement though. Too flashy for our liking. The sizes: 9,5-inches wide, 20-inch diameter fitted with Continental Sport Contact 5P 255/30 tires. The whole vehicle also sits 35 mm lower to the ground with Senner's springs
Senner haven't really tried to improve on the Nismo aerodynamic package. Instead, they have went for small accesorizing – wind deflectors on the side windows, LED daytime running lights, LED license plate illumination and, of all things, Philips Silver Vision chromium flashing indicator bulbs.
Now to the more serious stuff. The Juke's 1.6-liter engine has received a boost in power because of some witchcraft with the electronics and because of the brand new INJEN-Cold Air Intake module. That's 225 hp (as opposed to 200 hp) and 275 Nm of torque (as opposed to 250 Nm).
For the appropriate soundtrack, Senner have thrown in their custom made stainless steel exhaust system with ridiculously wide end-pipes.
The whole thing, provided that you already happen to own a Nissan Juke Nismo, will cost you around $12,222. We can't say if it's worth it or not.
Source: Senner