Rolls-Royce Unveils Pinnacle Travel Phantom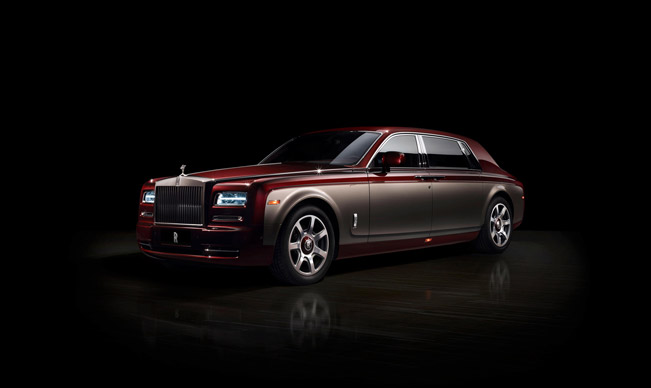 2014 Rolls-Royce Pinnacle Travel Phantom is a showcase of brand's pre-eminence in Bespoke design seen through the prism of luxury travel. And it is all intended for the customers in China. The exclusive vehicle has been unveiled at the Beijing Motor Show, displaying a new Bespoke Collection motor car. It celebrates both the Chinese love of travel and the success of the Bespoke programme in China. In fact, China continues to be the largest outbound travel market for the second year in a row, spending an estimated $125 billion on travel in 2013.
Pinnacle Travel Phantom offers a luxury experience through its colour palette, opulent materials used and the most complex hand-crafted marquetry ever seen in a Rolls-Royce. It evokes the experience of travelling on luxurious cross-continental trains.
As a true Phantom it carries the richness of two-tone exterior colour scheme which includes Madeira Red complemented by Silver Sand on the lower side panels. The unique Madeira Red coach line can be seen next to an abstract motif of a streamlined train travelling at speed. In addition, Infinity Black combined with Silver Haze or Melanite combined with Palladium is also offered as colour schemes.
Inside the car boasts number of Morello Red and Seashell leather combinations, which are used for the seats, roofliner, pillars and door cards plus Morello Red lambs wool floor mats. A motif in Smoke Grey thread evokes luxury travel and previews the craftsmanship of Rolls-Royce. The motif is stitched into the seat flutes and is echoed in individual fabric cushions.
Furthermore, the pièce de la resistance, is the most complex and intricate marquetry ever seen inside a Rolls-Royce. Here, individual pieces of wood veneer are laser-cut and then assembled into sections.
2014 Rolls-Royce Pinnacle Travel Phantom includes 230 individual pieces of marquetry, combined to create the incredibly striking motif of a cross-continental train speeding across a landscape with plumes of steam left in its wake. The motif flows across the front-fascia pieces of glove box and passenger panel to the rear picnic tables and door cappings. In addition, the same motif can be seen also onto the door cards through 24,633 individual stitches.
Source: Rolls-Royce