2012 Rolls-Royce Ghost Six Senses Concept delivers new level of sensory indulgence
2012 Rolls-Royce Ghost Six Senses Concept is an outstanding luxury model which the richness of experience that comes as standard with any Rolls-Royce vehicle.
When one approaches this exceptional Rolls-Royce their senses are immediately provoked. The delight continues through the experience of the lavish use of soft, sumptuous leathers, finest veneer detailing and special bespoke enhancements.
In fact, the stunning interior was hand-made and maybe it embodies part of every craftsperson involved in the process of creation.
This luxury concept vehicle ignites the sight with its beautiful and elegant appearance. Every Rolls-Royce Ghost model is a sign of exceptional taste. In addition, what pleases the eye is pearlescent Carrara White finish complements new forged alloy wheels.
Another visually enriching experience comes through the interior which includes precision and detailing. The deep lustre of the Walnut Burr veneer complete with diagonally-oriented, brown oak cross-banding, are made to hint at the extraordinary power at the driver's disposal.
Next, the senses of the ears are provoked by the sound most advanced audio systems included in the Ghost model. In details, Ghost Six Senses audio system fills the spacious rear cabin thanks to its upgraded amplifier and the inclusion of 'exciter' speakers housed in the leather headlining that help raise the centre of sound closer to a passenger's ear.
Furthermore, the finest interior materials create scents that are unique to Rolls-Royce. Take for instance the natural soft grain leather in enveloping, hand-crafted seats, as well as in the car's leather headlining, with added hints of the woody spice in the walnut veneer.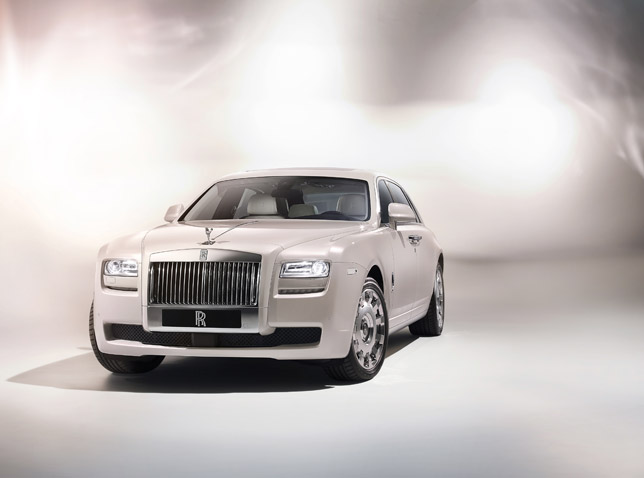 And in addition to all this the Rolls-Royce comes to offer ultimate experience in terms of taste, because in it is featured a coolbox where any kind of refreshing drinks can be stored.
The tactile sense is provoked through the versatility of materials included in the design of the concept. They range from cool chrome and sumptuous leather to the finest veneers. In fact, Ghost Six Senses includes natural grain leather for the first time.
On the other hand the deep pile lambswool rugs encourage occupants to submerge feet, while opening the boot effortlessly with remote opener, reveals a further lambswool lining to cosset luxury luggage.
Source: Rolls-Royce