Renault R.S.16 Formula One Car Shows-Off with New Livery and Rides the Waves in Australia [w/videos]

2016 FIA Formula One World Championship is one of the most watched and awaited events during the year and every single participant is preparing for it with extreme diligence and pays attention even to the tiniest details. The livery is a substantial part for every team and evokes excitement in viewers. On the pictures you see in this blog post as well as in the gallery below, you will find Renault Sport Formula One Team's brand new definitive livery for the 2016 FIA F1.
The team has just revealed the new visual appearance of its race car, which carries the distinctive yellow-gold and black colors. This has happened at an event hosted in Docklands, Melbourne, where the R.S.16 bolide appeared as it literally surfed the waves at Boat Harbour Park beach just outside Sydney.
SEE ALSO: Infiniti and Renault Alliance is an Epic One. And Here Is Why!
If you aren't familiar, this year the team drivers for this year are Kevin Magnussen and Jolyon Palmer. They have joined the Australian pro surfer Ellie-Jean Coffey in a shoot on Monday before the Australian Grand Prix. How everything happened: the showcar (for those concerned about whether it will dry out in time for Sunday's race) was fixed to the 7.5m long board using bespoke harnesses. Afterwards it was towed out into the Pacific Ocean where it was released to catch its first-ever waves. It is also the first time an F1 car has ever surfed!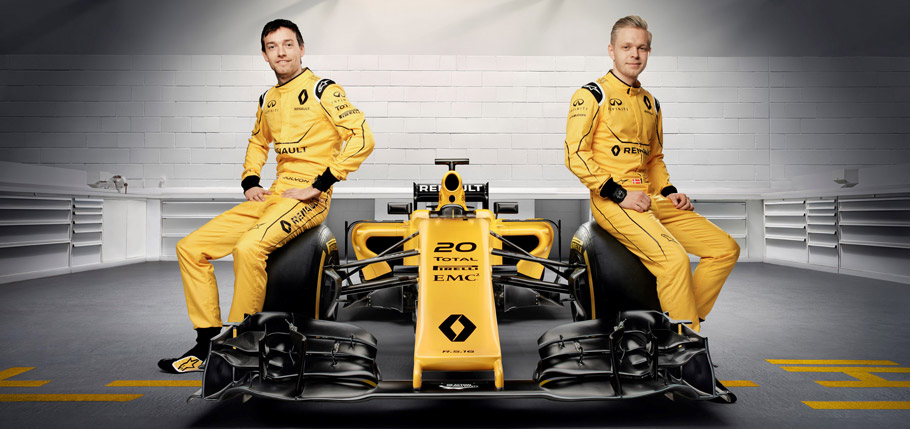 The black and yellow Sirius colors look so natural on the Renault R.S.16 because they incorporate company's (Renault Sport) colors and also remind of the first-ever Renault F1 car, the RS01. The RS01, which hit the track in 1977, was too painted in yellow and black. Furthermore, this time Renault also wanted to make a connection between the Sport Cars and the Sport Racing division, so it has used colors to showcase the matt white color available on the Clio R.S Trophy.
Furthermore, additional modern cues were further given to make the R.S.16 stand out. These include metallic colors, reflecting the lights at the night races, the 'diamond' pattern at the rear of the car and gold flashes, which show for what the teams aims.
Video Source: YouTube 
Source: Renault