Renault Megane Sport dCi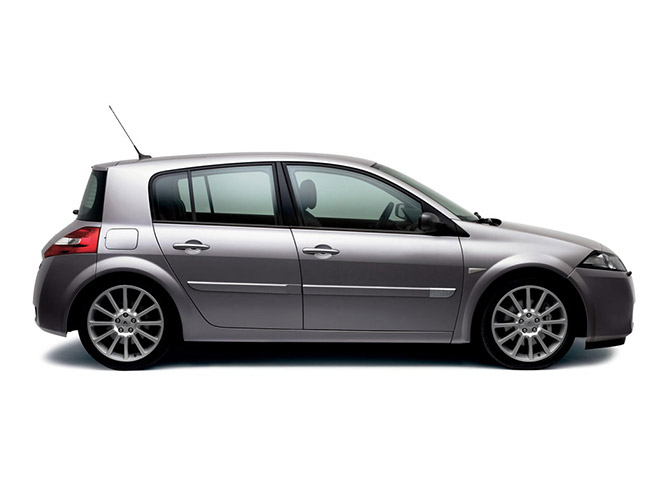 The launch of Megane Renault Sport dCi sees Renault complete its range of sportingcars with the addition of a high-performance diesel. Aimed at drivers who relish everyday driving, the Renault Sport Technologies-developed Megane Renault Sport dCi will also appeal to those who appreciate reasonable running costs.
Its 2.0-litre common rail 127kW (175hp) diesel powerplant boasts generous maximum torque of 360Nm available from 2,000rpm and across an operational power band similar to that of a petrol engine. Meanwhile, its exceptional combined cycle fuel consumption of just 6.5 litres/100km makes it an ideal choice for fans of sporting cars who wish to drive their car on a regular basis.
In keeping with other Renault Sport Technologies-engineered models, Megane RenaultSport dCi's standard chassis delivers sports performance, while those who prefer a more focused drive will appreciate the optional Cup chassis. Available with three or five doors, Megane Renault Sport dCi is built in Renault's Dieppe factory.
Last December's launch of the 150hp Megane GT 2.0 dCi paved the way for the arrival of other dynamic, compact Renault diesel saloons, including Megane Renault Sport dCi which will appeal to customers who savour the opportunity to drive a high-performance car… but would appreciate it all the more if they could use it every day without paying too much for the privilege. Drivers of high-performance diesels tend to cover a much higher annual mileage than those in petrol-powered equivalents.
For them, therefore, it is vital to strike a balance between running costs and performance when it comes to choosing a new car. The compact diesel saloon segment is expanding significantly in western Europe.
Sensational diesel engine
To meet both needs, Renault has fitted its existing top-end 2.0 dCi diesel to the chassis originally developed for Megane Renault Sport 2.0 T. This powerplant develops 175hp at 3,750rpm plus a generous 360Nm of torque at 2,000rpm and, in terms of breadth, its operational power band is comparable with that of a turbocharged petrol engine. The throttle mapping has been modified with a view to optimizing response time.
This engine is packed with advanced technology, including a variable geometry turbocharger which provides a wide spread of torque throughout the rev range. Piezoelectric injectors are capable of operating up to five times per cycle, which helps reduce engine noise, fuel consumption and particulate emissions. Injection pressure has been set at 1,600 bar to optimise combustion and improve the fuel/air mixture. The engine is also equipped with an additive-free periodic regeneration filter, as well as two balancer shafts to keep noise and vibration levels down to a minimum.
Coupled to a six-speed manual gearbox, this engine sets new standards in the highperformance diesel sector, with combined cycle fuel economy of 6.5 litres/100km and CO2 emissions of just 172g/km. Thanks to its 60-litre fuel tank, Megane Renault Sport dCi also boasts an unmatched range in the compact diesel saloon segment. Meanwhile, its performance statistics speak for themselves: 0-100kph in just 8.3 seconds and the 1,000m standing start in 29.4s.
Two proven chassis
Beneath the skin you'll find the underpinnings of the petrol-powered Megane Renault Sport 2.0 T and the standard Renault Sport chassis blends dynamic handling with the kind of comfort everyday driving demands.
Independent steering-axis front suspension guarantees precise and efficient handling in all circumstances, while body movement is minimized by a 20mm-diameter anti-roll bar. The front suspension has also been tuned to suit Megane Renault Sport dCi's characteristics and weight distribution. Spring stiffness and damper settings are consequently specific to this diesel version.
The rear suspension is based around a programmed-deflection flexible beam, the torsional stiffness of which is equivalent to that of the Cup chassis version of Megane Renault Sport 2.0 T (80Nm/°). The suspension components themselves are identical to those employed on the
Sport chassis Megane Renault Sport 2.0 T.
A Cup chassis is optionally available. This features an ESP system than can be switched off, as well as specially tuned front and rear dampers and 37% stiffer springs compared with the Sport chassis version. Readily recognisable thanks to its aluminium alloy wheels and anthracite exterior mirrors, this chassis enables committed driving enthusiasts to explore the full potential of this potent Megane diesel.
Powerful and fade-free, the Brembo braking system features four discs that are impressive in terms of both diameter (312mm and ventilated at the front, 300mm at the rear) and thickness (28mm at the front, 11mm at the rear). The front discs are also equipped with four-piston calipers. The alloy wheels run on Continental Sport Contact 2 tyres, either 225/45R17 (for the Confort trim level) or 225/40R18 (Luxe). These were chosen for their renowned qualities of traction and grip.
The electronically variable power steering has been set up specifically to suit the car's weight distribution.
In terms of active safety, Megane Renault Sport dCi is fitted as standard with a dynamic electronic stability programme (ESP) which has also been set up to suit the car's particular characteristics. Passive safety features are the same as those on any other Megane – a five4 star performer in EuroNCAP crash tests.
Externally, Megane Renault Sport dCi is identical to the petrol version (without the rear spoiler) and is available in both three- and five-door form. Inside, the mood is distinctly sporting thanks to the aluminium pedals, leather steering wheel and seats with increased lateral support. A range of accessories will also shortly be available to enable Megane Renault Sport dCi owners to customize their vehicle as a function of their individual tastes.
Dieppe's sporting know-how
Megane Renault Sport dCi is built on Renault's Dieppe assembly line, using shells delivered from the company's Palencia plant, in Spain. The production system has been modified to the particular requirements of this high-performance diesel and quality control standards are a match for the very best. The Dieppe factory oversees production of all sporting models developed by Renault Sport Technologies.