Renault launches new alliance v6 dCi engine
The Renault-Nissan Alliance unveiled its brand-new V6 dCi diesel engine in the Laguna Coupé at the Paris Motor Show, in October. This engine is the first diesel V6 engine developed and produced by the Renault-Nissan Alliance. It will equip top of the range vehicles to meet the growing worldwide demand for engines that are powerful and yet fuel and CO2 efficient.   The Alliance cooperation has made it possible for both Renault and Nissan to offer a state-of-the art premium powertrain to their customers, all around the world.
The new V6 dCi: a Renault-Nissan Alliance-led project The Renault-Nissan Alliance, which will celebrate its 10th anniversary in 2009, is a unique successful example of two companies that share common values, i.e. trust and mutual respect, but retain their own corporate identity. The Alliance is always pursuing opportunities of synergies within the two groups, through a common purchasing organisation, RNPO (Renault-Nissan Purchasing Organisation), co-developed projects, like Koleos, and manufacturing collaboration, through the sharing of best practices.
The new V6 dCi (V9X) is an example of what the Alliance is all about: the engine was developed by the two companies, has been assembled in a Renault plant and will be fitted in Renault, Nissan and Infiniti vehicles. This practice makes it possible to share the costs, to benefit from economies of scale, and to offer more vehicle variants to customers.
An engine whose existence has been made possible thanks to the existence of the Alliance It would not have been relevant for either Renault or Nissan to produce this powertrain on their own, as volumes would have been too low to make it profitable. Associating the two companies has both favoured economies of scale and created higher output.  The Renault-Nissan collaboration has reduced R&D expenditure and less industrial investment, as engineering and industrial were split. In short, working through the Alliance has decreased the total outlay of this engine to 180 million euros.
An engine co-developed by Renault and Nissan The new engine's specifications were established to meet the expectations of Renault's, Nissan's and Infiniti's customers, which means that the engine can be installed in various types of cars (coupés, saloon, SUVs…) and commercialised in various parts of the world, such as Europe and the US. This is why it has been decided to use a 'V' architecture. Such engines can be fitted either longitudinally, as is often the case in Nissan/Infiniti vehicles or transversally, like in a Laguna.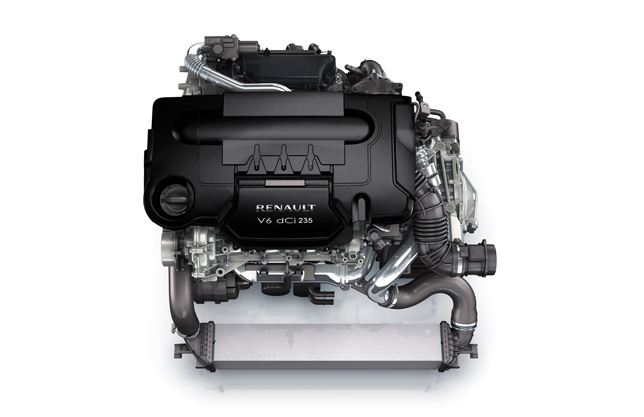 The engine was developed mainly in Rueil-Malmaison, near Paris, a town that hosts Renault's powertrain engineering centre. The new V6 dCi engine derives from other Renault engines, such as the 2.0 dCi, and thus, benefited from the knowledge gained during this 4-cylinder engine development. As the upper parts of the V6 dCi are very similar to those of the 2.0 dCi, the development of the new engine was faster, and cheaper. Using existing technologies also guarantees better quality, which is a priority for Renault, as the company's commitment is to put Laguna among the top three vehicles of its segment in terms of product and service quality.
Nissan engineers have been fully involved in the engine development, and share their competencies, to make it sure that the engine will fully adapt to Nissan's vehicles.
An engine that will be fitted on Renault Group and Nissan Motors Company top of the range vehicles Concerning Renault, it is already available on Laguna Coupé, and will soon be offered on Laguna Hatch and Laguna Sport Tourer, in early 2009.
Concerning Nissan, it will be available on the new version of Maxima in the US and on Pathfinder and Navara, in Europe. It will also be available on Infiniti EX, FX and M models in Europe.
This diesel engine will also equip other vehicles in the future, as the new V6 dCi has been conceived for use in various types of vehicles. It is also possible to adapt it to various environmental regulations, such as the Euro5 or the Californian regulations.
Renault needs a new diesel V6 engine to accompany its new and future upper range vehicles such as Laguna Coupé, while Nissan will use it to accompany the development of Infiniti in Europe and to offer alternatives to hybrid or petrol engines in the Northern hemisphere.
The new engine will help the two companies reach these goals.
An engine intended to meet a growing commercial demand for powerful Diesel powertrains Diesel engines are already popular, mainly in Europe, while demand is growing in the rest of the world. In France, for example, 75 % new vehicles are already equipped with diesel engines (source: CCFA). Demand for diesel engines has been higher than expected in Japan. Nissan X-Trail has been available there with the Renault-Nissan Alliance's 2.0 dCi engine since September. In only two weeks of commercialisation, this engine reached its 10-month sales objective, demonstrating the potential of such engines in the Japanese market. The US has also opened its doors to diesels, as many premium carmakers already offer such engines, in a context of high fuel prices. Both Renault and Nissan need to produce vehicles equipped with diesel engines to address this demand, which is already huge in Europe, and likely to rise in the rest of the world.
The popularity of diesel engines can be explained by the fact that these engines offer a high level of efficiency: they deliver more torque and as much power as their petrol counterparts that post the same displacement, while also consuming less fuel, and emitting less CO2.
Petrol engines remain popular among passionate drivers, who seek higher performance, i.e. more power at higher revs. The new V6 dCi 235 engine, contrary to most diesels, is nevertheless able to achieve a maximum of 5,000 rpm, which makes it a serious competitor to petrol engines in terms of driving pleasure.
A premium performance-oriented engine fully adapted to the needs of upper range vehicle buyers Renault's Diesel engines, known as dCi, such as the 1.5 dCi (K9K) the 1.9 dCi (F9Q) or the 2.0 dCi (M9R), are praised for their performances, fuel and CO2 efficiency, silence, and lack of vibrations. They are perfect for everyday driving, as they are environmentally friendly, reliable and durable, as well as dynamic.
Nissan's V6 engines are references in their segment. Each year, Nissan produces more than a million V6 engines, making it the biggest V6 producer in the world. The 3.5L petrol engine fitted in vehicles such as the 350Z has won many prizes. Nissan's V6 engines have been ranked among the World's Ten best engines for 14 years. Its new twin-turbo 3.8 litre V6 fitted in the Nissan GT-R is one of the world's most performance-oriented powertrains, as it has outperformed most sports cars on the Nürburgring racetrack, with an astonishing 7'29" laptime.
The new V6 diesel engine is a technological, high displacement, multi-valve V powertrain, which means it offers a high level of performance and driving pleasure. The new powertrain has the highest level of torque in the Renault line-up with 450Nm. It therefore allows very quick acceleration from 0 to 62mph in just 7.3 seconds. Additionally, in Laguna Coupé, the new diesel V6 achieves 235hp, which makes it Renault's second most powerful engine, after the 3.5 litre petrol engine (240hp). Further versions of this engine will be commercialised with more power and more torque, as it can generate up to 265hp and 550Nm when put longitudinally on a car.
An environmentally friendly state-of-the-art engine in line with the customers' new expectations The new V6 dCi engine derives from the 4-cylinder in-line 2.0 dCi launched in 2005. They share components, but the combustion chamber design has been optimised to improve the trade-off between emission levels and fuel efficiency.  Laguna Coupé V6 dCi emits 192g/km of CO2, which is in line with most of the best German engine manufacturers. Of course, the new V6 will be fitted with particle filters and a SCR, to make it one of the cleanest diesel engines in the world. Very low noise levels are the result of a joint optimisation of powertrain engine base, injection and tuning strategies.
Engineers also took recycling issues into consideration, as 95% of the engine is reusable and it is also produced in an ISO 14001 plant.
An engine produced by Renault in Cléon, France The new 3.0 dCi V6 engine will be produced at the Cléon plant, 80 miles west of Paris. This plant, which celebrates its 50th birthday in 2008, produces the upper range petrol and diesel engines of the Renault group, i.e.:
the 1.9 dCi diesel engine (F9Q type), fitted in Mégane

the 2.0 petrol engine (F4RT), fitted in Clio, Mégane, Laguna

the 2.0 petrol turbo engine (F4RT) fitted in Mégane Renaultsport, Laguna, Espace and Vel Satis

the 2.0 diesel engine (M9R type) fitted in Mégane, Laguna, Espace and Vel Satis

the 2.2 and 2.5 diesel engine (G9T and G9U type) fitted in Master
On average, Cléon produces about 1/3 of Renault's engines and sells part of its production to Nissan and Suzuki. Cléon also produces five- and six-speed gearboxes.
Cléon was first and foremost chosen by the Alliance to produce the new engine because it favours economies of scale. The new V6 dCi derives from the 2.0 dCi, which is also produced at Cléon. Producing the two engines in the same plant makes it possible to reduce logistics costs and to benefit from a volume effect.
The Cléon plant has great know-how in terms of high displacement, complex engines. Producing the new figurehead of the dCi line-up in a plant that masters the production of high power engines was thus the obvious choice. Cléon is also well located from a logistics point of view, since it is close to the Sandouville plant, where Laguna is produced, and half way between the US, where the Maxima will be produced, and Japan, where Infinitis are made.
Additional information: The engine characteristics of Laguna Coupé dCi 235:
Engine name: 3.0 V6 dCi 235 (V9X) Emission regulation: Euro IV ; Euro V compatible Particle filter: FAP Number of cylinders/valves: 6/24 Injection type: Diesel direct injection, 1600 bar double common rail, 7 hole Piezo injectors Balance shaft : no Crankcase/cylinder head material: Cast iron/Aluminium Displacement: 2993cm3 Bore X stroke: 84mm X 90mm Compression ratio: 16:1 Maximum power: 235hp @ 3,750 rpm Maximum torque: 450Nm @ 1,500rpm
Performance: 0-62mph 7.3 seconds Top speed: 151mph
Fuel consumption and CO2 emissions Urban cycle: 26.6 mpg Extra urban cycle: 49.5 mpg Combined cycle: 39.2 mpg CO2 emissions: 192g/km
The plant History: 1958: Creation of the Cléon plant which produces gearboxes. 1960: Construction of a second building dedicated to engines. 1964: Creation of the aluminium foundry. Casting of the first aluminium cylinder blocks for the Renault 16 model. 1970: Construction of a new building for the production of gearboxes, and then engines. 2000: Development of flexible production lines. 2001: Transfer of the Prototype Mechanical Part Manufacturing Department to Cléon. 2005: Production start-up of the M9R (2.0 dCi), the first Alliance engine, and the PK4 gearbox. 2007: An overseas dock was built to ship M9 engines directly to Japan and South Korea. 2008: 50th anniversary of the plant and production start-up of the V9X (3.0 dCi)
Production: Engines: F4R (2.0 et 2.0T), F9Q (1.9 dCi), G9T (2.2 dCi), G9U (2.5 dCi), M9R (2.0 dCi) Gearboxes: JB3 (manual 5 speed), JH1 (manual 5 speed), JC5 (manuelle 5 speed), PK5 (manual 5 speed), PK6 (manual 6 speed), PF6 (manual 6 speed), PK4 (manual 6 speed), JR5
The companies Renault The Renault Group generated global revenues of €40,682 million in 2007. It designs, engineers, manufactures and sells passenger and light commercial vehicles throughout the world. The Renault Group is present in 118 countries and sells vehicles under its three brands – Renault, Dacia and Samsung. The Renault Group employs 129,000 people worldwide.
Nissan Nissan Motor Company generated global net revenues of 10.824 trillion yen in 2007. Nissan is present in all major auto markets worldwide selling a comprehensive range of cars, pickup trucks, SUVs and light commercial vehicles under the Nissan and Infiniti brands. Nissan employs over 224,000 people worldwide.
Infiniti The Infiniti brand was first introduced in 1989 in the United States, and its name was chosen to communicate that, with Infiniti, customers could experience infinitely more performance, more design and more service. Infiniti's global footprint expanded into Canada in 1990, the Middle East in 1996, Taiwan in 1997, Korea in 2005 and Russia in 2006. Global expansion continued in 2007 with Infiniti Centres opening in the Ukraine and in one of the world's fastest growing luxury automotive markets; China. By fiscal year 2012, Infiniti will have a presence in most of all the world's luxury markets.
The Renault-Nissan Alliance The Renault-Nissan Alliance, created in 1999, sold 6,160,046 vehicles in 2007. The Alliance aims to be ranked in the top three in terms of quality, technology and profitability amongst the major global automakers.