Renault Clio Grand Tour
Renault introduces Clio Grand Tour Concept at the 2007 Geneva Motor Show. A glimpse of developments to come within the Clio III range, Clio Grand Tour Concept targets drivers looking for a small, dynamic and attractive estate car with the abilities of a classic grand tourer. Finished in special Comet Gold paintwork, Clio Grand Tour Concept is powered by the 2.0 16V 200hp petrol engine, a unit that promises incomparable driver appeal. The cabin is bright, practical and comfortable – the perfect place for relaxing journeys.
And with its large, easy-to-load cargo area, Clio Grand Tour Concept is geared very much towards leisure activities. Developed around photographic and multimedia themes, the show car has a very high specification and includes a number of benchmark electronic features.
A powerful, dynamic presence
At 4.2 metres in length, Clio Grand Tour Concept will appeal to drivers who want a compact estate with the panache of a grand tourer. There is no mistaking its provenance. Clio III's distinctive profile is easily detectable, although the shape is enhanced by more pronounced curves. Fitted with bespoke side panels and a rakish tailgate topped by an aerofoil, Clio Grand Tour Concept fizzes with power and energy. The three-door bodyshell, roof bars, wider front and rear wings, sculpted sills, air ducts and rear diffuser underline its potency.
At the front, a wide air intake grille cools the naturally aspirated 2.0 16V 200hp engine. The streamlined front lights house high-performance LEDs and the compact rear lights encapsulate Clio Grand Tour Concept's nononsense character. The rear-view mirrors and bumpers are painted Comet Gold, like the bodywork. A subtle array of pixels can be picked out on the sides of the bodywork, suggesting the worlds of multimedia and photography. Hunched on aluminium wheels – 18-inch rims at the front, 19-inch at the rear – Clio Grand Tour Concept looks effervescent and dynamic.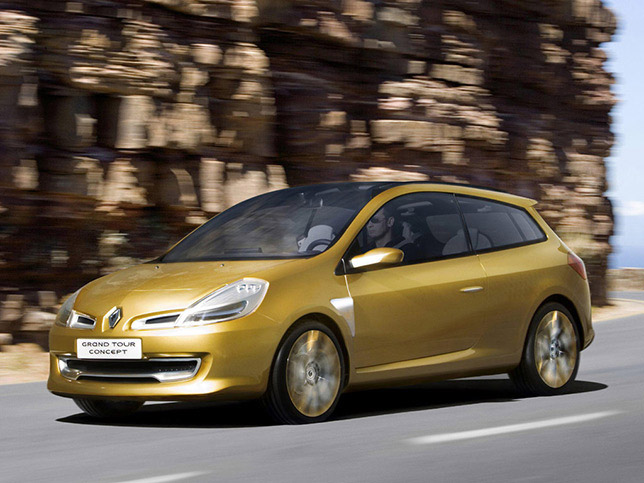 A large, practical boot
Clio Grand Tour Concept's generous proportions will meet the needs of customers looking for a car that blends practicality and character. Its adaptable interior and longer rear overhang (bigger than that on a standard Clio III) combine to provide excellent load-carrying capacity. Clio Grand Tour Concept has an impressive 430-litre boot and the cargo area measures 1.7 metres in length. Svelte, individual seats with integral head-rests offer comfort and good body support for up to four occupants. The rear seats fold easily to create a flat load area. In an instant, the Clio Grand Tour Concept transforms into a two-seater coupe – a 100% fun car with a 1,275-litre load capacity.
Comfort and driver appeal
A cocktail of the Clio III's remarkable roadholding and sheer driving pleasure, Clio Grand Tour Concept is a car for free spirits. Its dynamic attributes allow the naturally aspirated 2.0 16-valve engine to show its full potential. It's a flexible (215Nm of torque at 5,500rpm), powerful (200hp [145 kW] at 7,250rpm) unit that is lively when required, yet docile and tractable in everyday driving. Mated to a six-speed manual gearbox, it accelerates from 0-100kph in just 7.2 seconds.
Underneath, however, Clio Grand Tour Concept is still a Clio – and that means it's supremely comfortable and easy to live with. The practical interior is perfect for relaxing journeys. The wide, panoramic glass roof creates a bright, airy ambience that highlights the generous cabin dimensions and large boot. The elegant dashboard incorporates a navigation screen and analogue/digital speedometer. A great deal of attention was paid to interior lighting. Yellow in tone – Renault's corporate colour – it gives the cabin a certain vibrancy, which echoes the car's entertaining character. The centre console, boot floor and door trims also disseminate streaks of yellow light.