Renault says that the limited edition Captur Wave is stand-out sophistication, but is it so?

When a brand like Renault releases a new model, people aren't usually that impressed (like for instance when Lamborghini does this). However, the French brand has its strengths, and they mainly are hidden in their aim to deliver relatively well-built and looking cars to the middle-class society. We can say the same thing about their latest limited edition, called Captur Wave, because there is nothing that can surprise us here.
Renault try to market out the model with the claim that it is a "stand-out sophistication", and that the Captur in general is a "hugely popular model, selling to the tune of more than 32,000 units in France" alone. And this is since the start of the year.
SEE ALSO: Sporty, agile and sweet, the new Twingo GT hits the streets this winter! 
Where does Capture Wave stand in the entire picture? As a limited edition, the car has been built with the aim to be based on the core specifics of Captur and to add some extra spiciness to it. In other words, it features some cosmetic changes like the Pearlescent White body color, the contrasting black roof, the Chrome Frost interior trim and special upholstery with blue top-stitching. If you don't like white cars, then there is other three bi-tone option (all combined with the black roof): Platinum Grey, Pacifique Blue and Marine Fumé Blue.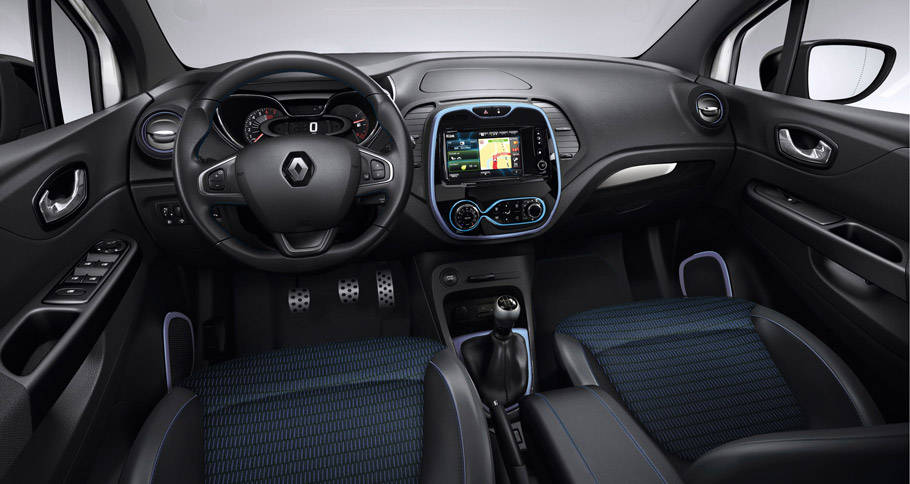 There is more to that. Those who will eventually buy these car will get 17-inch black Explore diamond-effect alloy wheels with blue hub centre caps, wave badging, blue roof decals and door mirrors, Platinum Grey front and rear skid plates, front and rear carpet mats with embroidered Captur badging and front door sill protection.
It is obvious that Renault is really trying, but… Well, another benefit here is the high-tech equipment, which is optional for this specific model. It is called Techno Pack and includes the R-Link Evolution Multimedia System, a rear parking camera and an electrochromic rear-view mirror (a.k.a rear-parking camera). At last, but not least, the Captur range also welcomes the addition of the TCe 120 engine connected to a six-speed manual gearbox.
If this has impressed you, then it is time to prepare at least € 21,100, which is the starting price of this limited edition.
Source: Renault