Real world testing proves GM/Opel HydroGen4 fuel cell vehicles viable
Six months into road testing of HydroGen4 vehicles in Berlin has shown the fourth generation of GM/Opel fuel cell cars are reliable and that the future of hydrogen mobility is viable, an Opel engineer told an audience of academic, government and industry professionals at the Electric Vehicle Symposium 24 (EVS 24).
EVS 24, the world's premier conference on electric drive technologies, is being held in Stavanger, Norway.
"The feedback from drivers about the HydroGen4 and its refueling has been highly encouraging," said Dr. Lars Peter Thiesen, Manager, Hydrogen and Fuel Cell Deployment Strategy for GM/Opel in Europe. "The vehicles have been very reliable, proving in principal the viability of hydrogen technology and fuel cell vehicles. Clearly, the HydroGen4 is a forerunner to environmentally friendly hydrogen-based transportation."
Opel put 10 HydroGen4 vehicles on Berlin streets in December 2008. Currently, eight are in the hands of businesses whose drivers use the HydroGen4 daily, allowing engineers to test how the vehicles perform and are refueled in real-world conditions. It is Opel's contribution to the Clean Energy Partnership (CEP), funded by the German Federal Ministry for Transport, Building and Urban Development, which aims to prove the suitability of hydrogen as a vehicle fuel.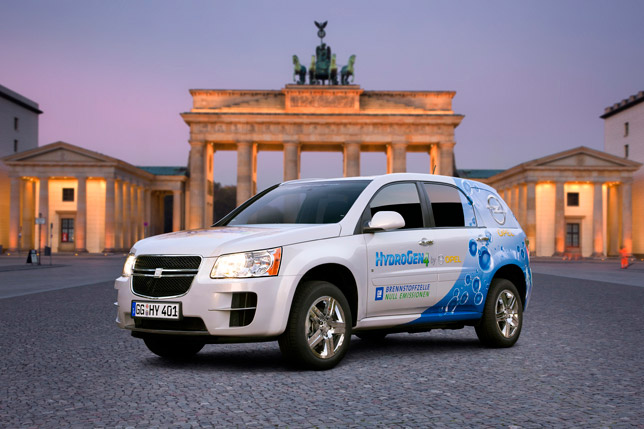 Opel's engagement in the CEP project is the European part of GM's Project Driveway, in which private individuals and industry partners have driven more than 100 HydroGen4 vehicles worldwide. During this testing, GM has been collecting important data to further the development of technology towards the goal of building fuel cell production vehicles. So far the fourth generation vehicles have been driven more than 1.1 million kilometers in total by customers and have been filled up more than 7,400 times at fueling stations.