Porsche 911 - Best Performance Car of 2012
A bit of trivia from the New York International Auto Show: the Porsche 911, the seventh one, has been named the 2012 World Performance Car. The news came at a press conference held by Bridgestone Corporation. There were other 33 contenders involved.
This annual award is usually presented after a careful assessment of the participants by 66 top-level automotive journalists from 25 countries around the world A.K.A an international jury. Each juror is typycally experienced in test driving, reviewing and evaluating outgoing models and are quite renown for it basically.
"We are honored that the 2012 Porsche 911 Carrera S was chosen by this distinguished group of jurors as the 2012 World Performance Car," said Detlev von Platen, president and CEO of Porsche Cars North America. "For just the seventh time in almost 50 years the iconic 911 has been revised to the point of being a new-generation, and winning this award from a global team of world-class journalists is excellent validation for the work and dedication of everyone at Porsche."
The 2012 Porsche 911 is naturally, longer, wider, lower, more powerful and more efficient than its predecessor. Two variations of it deliver different amounts of power – the Carrera's 3.5-liter boxer engine leaves you with 350 hp while the Carrera S gets 400 hp from its 3.8-liter unit. The choice of transmission for both cars, leaves you with two options - A seven-speed manual gearbox or the seven-speed dual-clutch Porsche-Doppelkupplungsgetriebe (PDK) automatic. With the latter one, the Carrera gets from 0 to 60 mph in 4.2 seconds while the S needs only 3.9 seconds.
The interior is mainly driver oriented – no distractions and no needless features. Well, there is a radio. Leg room is now up the priority ladder as well and the center console is elevated so that its on an easy reach distance from the driver.
The Manufacturer's Suggested Retail Price for the 2012 Carrera stands at $82,100 and for the S is $96,400 (base models, $950 destination charge not included)
P.S. - News about this latest award come shortly after the passing of Professor Ferdinand Alexander Porsche – a mournful day for the automotive industry. Grandson of Porsche's found, Prof. Ferdinand was head of the Porsche design studio in the early sixties when and where the iconic profile of the 911 was born. At the time of his death he was 76 but his contribution to the world is to remain timeless. Our hearts go out to his friends and relatives.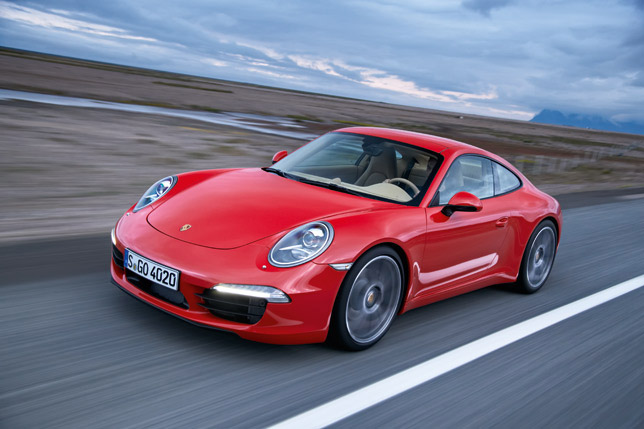 Source: Porsche