Peugeot Reveals 308 Racing Cup Edition Based on 308 GTi
Peugeot 308 Racing Cup is the most outrageous and radical model in Peugeot's line-up. Based on the 308i GTi by PEUGEOT SPORT, this racer is entirely ready to take a leading position on the racetrack. And here is why.
One-off Design
The racing car was designed by the team at Style Peugeot, who has obviously done its best since the generous proportions and aerodynamic forms we see. What we immediately see here is that the wheel arches of the racing car were widened so that they can house the huge 18-inch wheels.
As a matter of fact, the larger overall width has been extended to 1,910mm. This is an addition of 106mm to the 308 GTi.
SEE ALSO: 2016 Peugeot 308 GTi Unleashed! To Debut at Goodwood [Detailed Review]
What is more, the designers have added a very cool spoiler at the rear, and they have taken inspiration directly from the WTCC regulations. Both front and rear bumpers and front splitter are also unique to the 308 Racing Cup.
Powerful Engine

The 308 Race Cup is powered by the same 1.6-litre THP engine that drives the bonnet of the 308 GTi. However, there is only one little difference here. The Racing Cup car produces 38HP more than the GTI. In other words, the racer generates a total of 308HP (226 kW).
We have to mention that this is only the first stage of development of the engine. Brand's engine specialists have already surpassed the 308-horsepower thresh-old, offering even more potent and radical performance.
Race Bred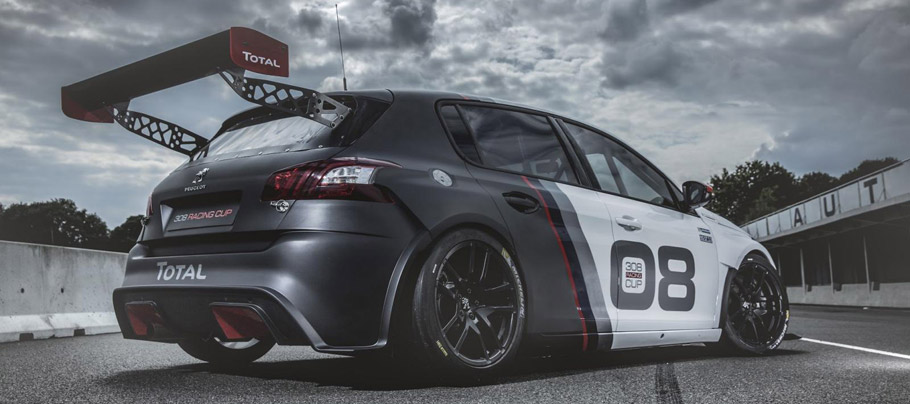 There are a lot of similarities between the 308 Racing Cup and the 308i GTi. And although the racer has borrowed a lot of elements of the suspension from its road-going counterpart (like pivots and rear beam), in other areas it features parts that are dedicated for a racetrack use.
Precisely, company's engineers have added specific parts like the six-piston brake-callipers. In addition, the six-speed sequential gearbox got steering wheel-mounted paddle-shifters. At last, the 308 Racing Cup weighs less than the car on which it is based. It will be restricted between 1,000kg and 1,050kg.
Where to See Peugeot 308 Racing Cup and How About Buying it?
The really good news is that from the end of 2016, 308 Racing Cup will be available to customers around the globe. But before that, anyone who wishes to see it will have the opportunity of doing that at the Frankfurt Motor Show this September. A demonstration run is scheduled for the end of October at the Paul Ricard in France.
Source: Peugeot