Official debut of the new Maserati GranTurismo MC
The new Maserati GranTurismo MC will be officially unveiled during the FIA GT "Media Days" at the Paul Ricard circuit. The new model is an offshoot of the Maserati GranTurismo MC Concept introduced last September in Monza and based on the Maserati GranTurismo S road version, with electro-actuated gearbox system.
On 17 and 18 March the car participated in the "Balance of performance", two days of practices organized by SRO at the Paul Ricard circuit in order to analyze and balance the performance of the models that will be racing in the GT4 European Cup.
A Maserati GranTurismo MC entered by a private team is to participate in some GT4 European Cup events during the second half of this season.
A limited series of the Maserati GranTurismo MC produced for gentlemen drivers who wish to race in the 2010 GT4 European Cup and the national series, will be on sale as of October 2009. The indicative price is 135,000 Euro + VAT. The cars will be sold directly through Maserati Corse.
In 2010 Maserati intends to once again organize a European single-make cup race. The cars participating in this Cup shall naturally present specifications that will set them apart from the GT4-version Maserati GranTurismo MCs.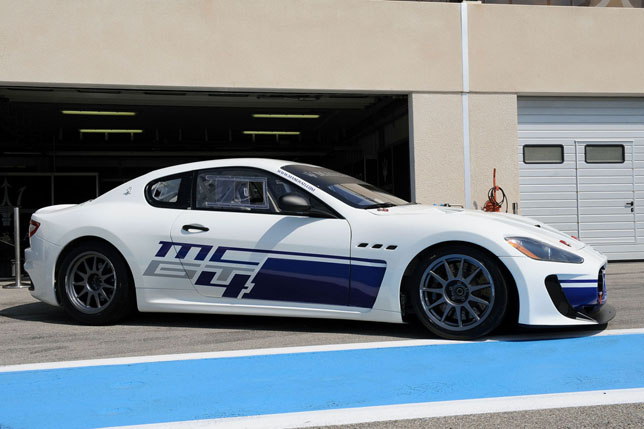 Maserati chose to create a model with GT4 features because GT4 is the category with the closest links to production models. There is a niche of GranTurismo road car owners who love racing and want to be able to test their mettle on a track driving a racing version of the same model they own.
The Maserati GranTurismo MC is the result of a development work carried out during many test sessions that started in the Summer of 2008.
Various drivers have taken turns developing the Maserati GranTurismo MC Concept from which the Maserati GranTurismo MC stemmed. With their strong professional and racing background, each and every one of them contributed to the creation of the final version.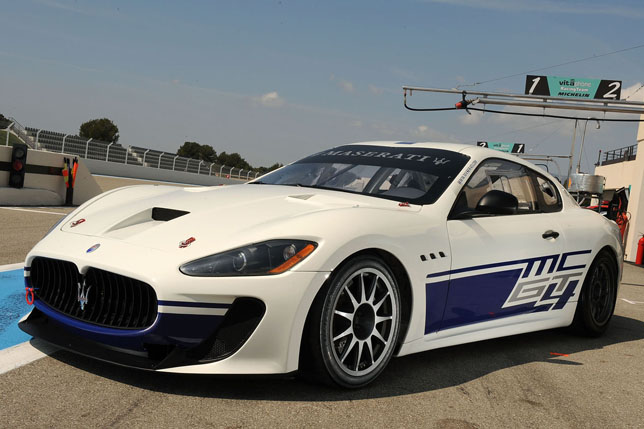 The predominant part of the fine-tuning work was conducted by Andrea Bertolini, official Maserati tester as well as incumbent FIA GT Champion at the wheel of the MC12.
Bertolini worked together with Thomas Cremonini, Maserati series production tester, and Vitaphone Racing Team teammate Michael Bartels, also 2008 FIA GT champion.
During the most recent tests, the Maserati GranTurismo MC with GT4 specs was also tested by former F.1 driver Ivan Capelli.
With the creation of the Maserati GranTurismo MC, the tradition of the Trident logo car manufacturer who remains loyal to its origins - those of a company founded in 1914 to tune and subsequently build racecars - lives on.
The Maserati list of wins is abundant and it includes a two consecutive wins at the famous Indianapolis 500 in 1939 and in 1940, with Wilbur Shaw at the wheel of the 8CTF "Boyle Special". This year is the 70th anniversary of that first success.
Juan Manuel Fangio won two F1 world titles in 1954 and in 1957 at the wheel of a Maserati 250F. In the 1950s and 1960s cars with the Trident logo won a good many Endurance races, while the last victory in a Formula 1 GP was clinched by Pedro Rodriguez on a Cooper-Maserati in 1967.
In 2004 Maserati Corse started racing again internationally in the FIA GT Championship featuring the MC12; it achieved three victories at the prestigious Spa 24 Hours (2005, 2006, and 2008 Vitaphone Racing Team) and no less than ten absolute titles:
- Three FIA GT Drivers Championships in 2006 (Michael Bartels/Andrea Bertolini), in 2007 (Thomas Biagi) and in 2008 (Michael Bartels/Andrea Bertolini) - Four FIA GT Teams Championships in 2005, 2006, 2007 and 2008 (Vitaphone Racing Team) - Two FIA GT Manufacturers Cups in 2005 and 2007 - One Citation Cup for gentlemen drivers in 2007 (Ben Aucott).
Race have always been the most demanding test-bench for all cars. Traditionally, reliability and performance are checked on track. It is in races that new technologies and materials are tested. And it is on the circuit that Maserati has decided to raise the much praised-sporty verve of its Maserati GranTurismo S to even higher levels to create the Maserati GranTurismo MC.
GRANTURISMO MC - TECH. SPEC.
DIMENSIONS AND WEIGHT
Width: 1914,0 mm Lenght: 4935,3 mm Height: 1300,0 mm Overhang front: 930,5 mm Overhang rear: 1064,1 mm Wheelbase: 2940,7 mm Front track: 1618,4 mm Rear Track: 1580,7 mm Weight: < 1400 Kg Weight distribution: 51,3 front / 48,7 rear
ENGINE AND TRANSMISSION
Engine: V8 Displacement: 4,691 cc Maximum power: ND Maximum torque: ND Weight/power ratio: <4.6 Kg/KW (<3.4 Kg/HP Ignition: Bosch - digital system Air intake: Double cone racing type filter Exhaust system: Racing type with removable catalyzers Lubrication: Wet sump Gearbox: Rear, longitudinal gearbox, with transaxle scheme. 6 gears + reverse, syncromesh. Electrohydraulic activation, with paddles shift
CHASSIS AND BODYWORK
Bodywork: Carbon fiber Windows: Windscreen, rear and side windows in Lexan. Chassis: Steel with welded integral rollcage structure, FIA approved. Interior: Backward-set driving position, with racing seat, dashboard and console in carbon fiber throughout. 6-points seat-belt compatible with HANS protection system. Electrical system: Specific, with data acquisition system integrated in the dashboard. Fuel tank: 120 L, with carbon safety structure, FIA approved.
Brakes: Racing system without ABS, with steel discs: Front disc: 380 mm Rear disc: 326 mm Front caliper: 6 pistons Rear caliper: 4 pistons
Wheels: Front: 11''x18'' Rear: 11''x18''
Tyres: Front: 305/645/18 Rear: 305/680/18 Shock absorbers: Carbon fiber