2012 Nissan Leaf powered by "LEAF to Home" Power Supply System With "EV Power Station"
Nissan Motor Corporation and Nichicon are going to launch "LEAF to Home" Power Supply System with "EV Power Station". The "LEAF to Home" power supply system can supply electricity from batteries onboard in 2012 Nissan LEAF electric vehicles (EV) to homes when used with the "EV Power Station" unit. The latter is developed by Nichicon Corporation.
In fact, "LEAF to Home" is an industry first backup power supply system. What it can do basically is that it can transmit the electricity stored in the large-capacity batteries of Nissan LEAFs to a residential home.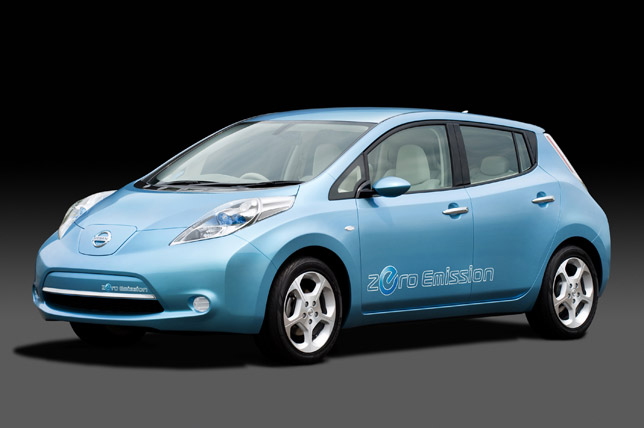 Other good news is that Nissan will showcase this system in Japanese dealerships in the days to come. The aim is to promote efficient electricity management and the features built onto electric vehicles.
Behind the technology which moves the electricity from the vehicle to home through the EV Power Station Unit, stays the Nichicon. Its innovative technology enables electricity stored in high-capacity lithium-ion batteries onboard a Nissan LEAF to be sent to an ordinary home. This happens through the connection between the car and the home's electricity distribution panel with a connector linked to the LEAF's quick charging port.
The EV Power Station system is not big in size. In fact it is as big as an external air-conditioning unit. It can be therefore mounted outdoors. Furthermore, the system can run on various operating modes and has a timer function which can be controlled with a liquid crystal display (LCD) touch panel. More importantly, the electricity is stored or supplied automatically in accordance with a household's electricity capacity and consumption.
The full charging time for the LEAF EV is as little as four hours. The great news here is that this is half the time, when the vehicle is charged via normal charger. This consequently means that it also can lower customers' electricity bills.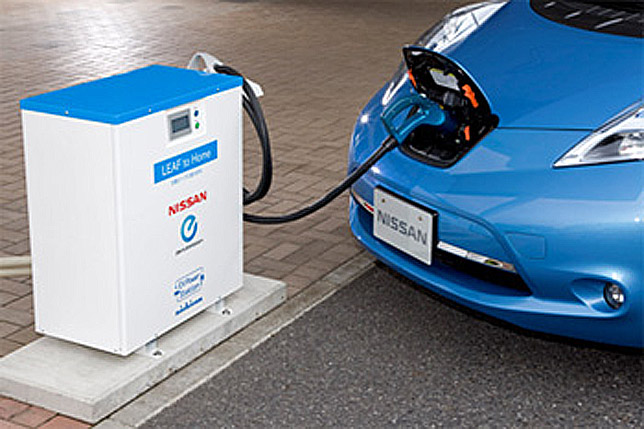 The EV Power Station : Specifications
When charging Nissan LEAFs
Input voltage:
Single-phase, AC 200V (±15%), 50 Hz/60 Hz (±5%)
Input current range:
AC 0-36A
Output voltage range:
DC 50-500V (CHAdeMO Protocol)
Peak power output:
6kW
Conversion efficiency:
90% or more (at rated output)
Power factor:
99% or more (at rated output)
When supplying power to households
Input voltage range:
DC 150V-450V
Input current range:
DC 0-30A (Limited by cable specifications)
Output voltage:
Single-phase three-wire system (AC 100V x two-phase) AC100V (±6%), 50Hz / 60Hz AC 200V (±6%), 50Hz / 60Hz (Max.±2%)
Output current range:
AC 0 - 30A
Peak power output:
6kW (Single-phased, AC 100V·3kW x two-phase)
Conversion efficiency:
90% or more (at rated output)
External dimensions:
650 mm (W) x 350 mm (D) x 781 mm (H) (excluding projecting parts)
Mass:
Approx. 60 kg
Source: Nissan