smart fortwo cabrio Brings the Summer Back 

The latest variant of the smart fortwo cabrio was revealed in December and now, a month later, the cute mini car is about to enter the market. The open-top two-seater is about to appear in dealerships in February in its form equipped with the 52 kW engine and the twinamic dual clutch transmission. But don't worry, because a variant with manual transmission will follow soon. The company has prepared for the customers three lines to choose from: passion, prime and proxy. In addition they can also choose from a large range of safety and comfort equipment.
The Design
The benefit of owning a smart fortwo cabrio is that it is multifunctional. Although it is a cabrio, you need only a touch of a button to transform it to a closed two-seater. But if you want to remove the soft top (which happens within 12 seconds) you can additionally invite more fresh air in by removing the roof bars.
SEE ALSO: This is Why the New smart fortwo cabrio is so Adorable!
The soft top is in fact called "tritop" and is something of an innovation. It has an area of 1.8 square meters, and is four percent larger than its predecessor. The outer covering is made of a particularly lightfast polyacrylic fabric and the inside features a polyester/cotton mix. There is a rubber layer in the middle, making a total thickness of 20 mm. The rear window is heated and is made of glass.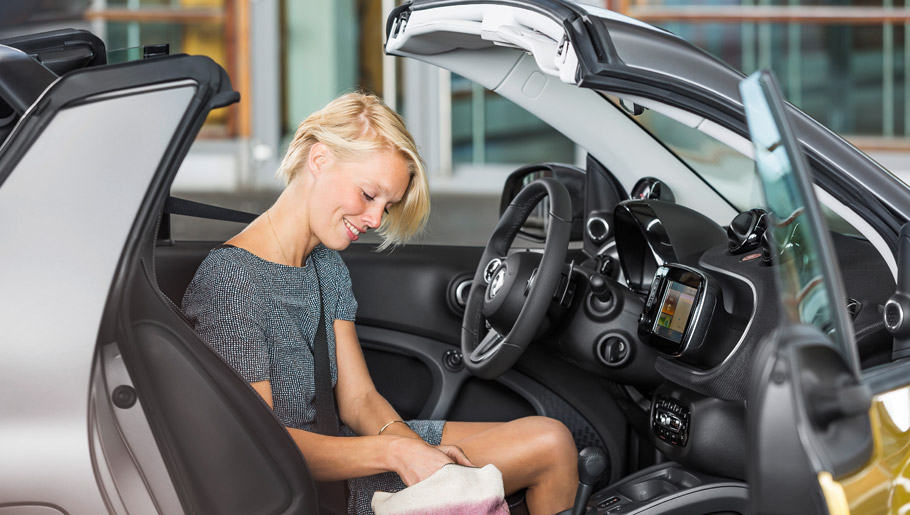 In terms of design there is nothing really impressive or different from the typical "smart" design. This means that the car has a well-known profile with ultra-short overhangs, clear lines, shapes and surfaces and a tridion safety cell.
The Safety
Many might regard a smart vehicle or any other mini car extremely unsafe. Especuially when we are talking about cabrios. No worries, because smart fortwo cabrio is made of high proportion of ultra-high strength hot-formed steels and maximum-strength multiphase steels. It also includes scissor struts, two torsional bulkheads under the vehicle at the front and rear, and an inner tube in the A-pillars made of ultra-high-strength hot-formed steel.
Advanced assistance systems are also at help. These include the ESP with Crosswind Assist (which comes as an option however) and Hill Start Assist as a standard, forward collision warning and Lane Keeping Assist that are also optional.
The Model Variants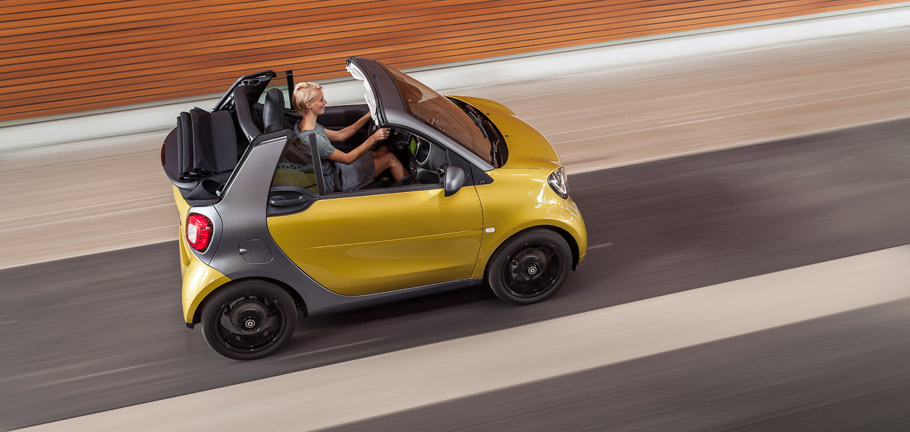 There are three model variants of the smart fortwo cabrio: passion, prime and proxy, two engines and two transmissions. The new three-cylinder engines are rated at 71 horsepower (52 kW) and 90 hp (66 kW). Both will be equipped initially with automatic twinamic dual clutch transmission, and then on the market will appear the five-speed manual transmission.
Smart fortwo cabrio will have a starting price of 15,655 euros for the model with the 71 hp engine and the twinamic dual clutch transmission.
smart fortwo cabrio at a glance:
| | | |
| --- | --- | --- |
| smart fortwo cabrio engine | 71 hp / 52 kW | 90 hp / 66 kW |
| Number of cylinders/arrangement | 3/in-line | 3/in-line |
| | 999 | 898 |
| | 52/71 | 66/90 |
| | 6000 | 6200 |
| | 91 | 135 |
| | 2850 | 2500 |
| Combined fuel consumption (l/100 km) | 4.3 | 4.2 |
| Combined CO2 emissions (g/km) | 99 | 97 |
| | B | B |
| Acceleration 0-100 km/h (s) | 15.5 | 11.7 |
| | 151 | 155 |
| Prices starting at (euros) | 15.655 | 16.550 |
Source: smart