New high-performance brake upgrade for Aston Martin
Owners of Aston Martin's DB9 can now substantially improve the stopping performance of their cars. The new Caparo high-performance brake upgrade package uses technology developed for the astonishing Caparo T1 hypercar, cutting stopping distances, reducing fade under regular heavy braking and increasing feel and consistency.
"With 470bhp from its 6 litre, V12 engine, the DB9 rewards drivers with stunning levels of performance," says Nick Mennell, technical director, Caparo AP Braking. "However, some owners have told us that particularly spirited drivers, including those taking part in track days, would like additional braking power. With more than 80 years' experience in developing high-performance automotive braking systems, our team of 18 braking engineers have developed an aftermarket upgrade kit that delivers what they need without adding extra weight or compromising performance while cold."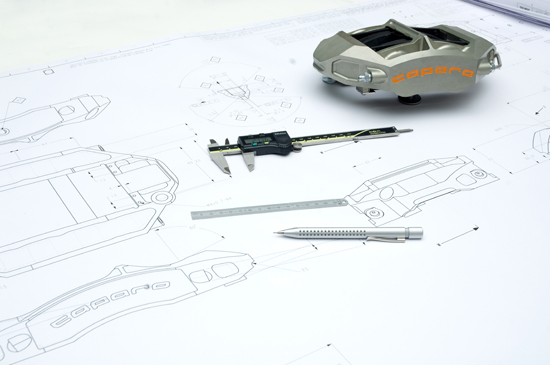 The DB9's original 330mm rear discs remain the same with the 355mm front disc replaced by 378mm discs, made from specially selected high-performance materials. Calipers are extremely rigid opposed piston four pots at the front and four pots at the rear, each machined from a single casting of aluminium to provide exceptional stability and performance.
During a number of tests on the upgrade Caparo noted improvements in a number of key areas of braking performance. The thermal capacity of the new discs has been improved, with an 18 percent reduction in peak temperature during a fade test, meaning that the new brakes can be applied for longer before any brake fade occurs. Pedal effort is also improved with the upgrade offering the same level of deceleration as the original with 30 percent less force being applied to the pedal. Caparo has also changed the brake distribution with 63 percent now being applied to the front brakes compared with 60 percent under the original set-up. These improvements to the brake system delivered a 24 percent reduction in stopping distance during an AMS fade test, giving owners greater control and stopping power.
Prices for Caparo's DB9 brake kit are £970 for the rear kit and £1,570 for the front kit which includes fitment at Caparo AP Braking or a major distributor. For further details, contact Caparo AP Braking on 01926 473820.