MTM Volkswagen T500 and Audi Q3 at Geneva
MTM are going to be at Geneva and do they have a treat for us or what? Two treats in fact. The world these days is mad about SUV's and MTM is listening carefully. That is why at the show, the custom house will feature an MTM Q3 2.0 TFSI Quattro baby SUV and … a not-much-of-an-SUV MTM T 500 2.5 TFSI 4motion which is, and there is no other way of saying this, basically a VW T5 van. But things start looking a bit different when closing in. The company has really made an effort in bringing the sport back to utility.
Both of these MTMs are patriotically painted in bold black, red and gold and the idea is to celebrate the kickoff of the European Football Championship season - "If you want to play in the top league, you better drive in the top league", comments the MTM owner Roland Mayer.
We do not know what exactly happens underneath the hood, but MTM say that the power in the Q3 has been pumped from 170 bhp to 310 bhp. Another claim is that it only needs 6.1 seconds to get to the 100 km/h threshold and that the top speed is just bellow 250 km/h. The company also offers some exhaust pipes and a diffuser to complement all that power. Equally impressive are the four MTM Bimoto 20" wheels, each wrapped in a 255/35 ZR 20 tire.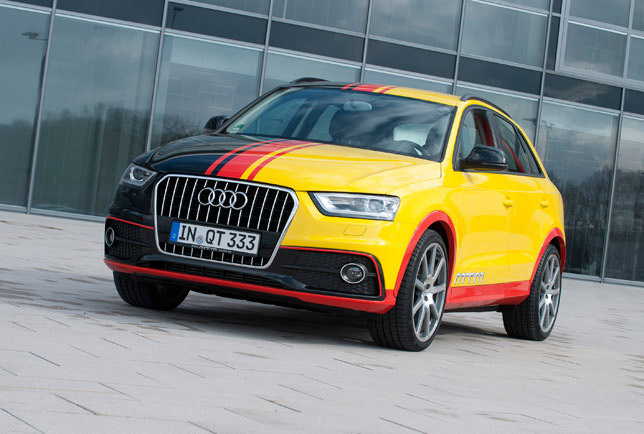 The MTM T 500 2.5 TFSI 4motion gets its power from a straight five that develops 472 bhp at 6,900 rpm. Alsp, at 4,100 rpm, the unit racks up a torque of 625 Nm which calls for an overhauled transmission. Top speed stands at 280 km/h (in a van!). Some reassuring tweaks on the suspension are also provided – 6-piston calipers at the front grab hold of the giant disks whenever needed, a KW Street Comfort coilover suspension tweaked by MTM is also there to keep you on the road. As a roundup, we have four 9x20 inch MTM Bimoto rims with 275/35 ZR 20 Michelin SuperSport tires on them.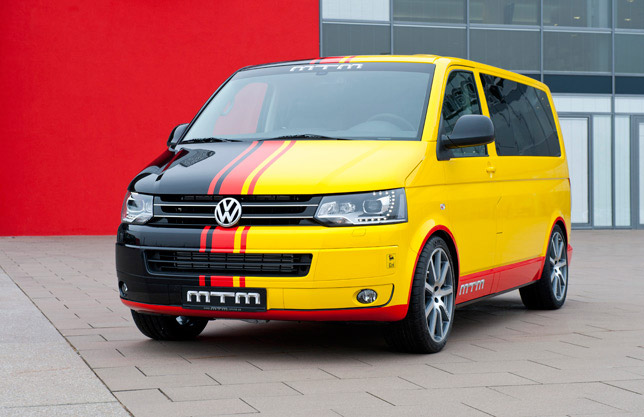 Whichever of the two you might fancy, it will be ideal for a trip to the European Football Championship. Two PSUVs suited for true football fans.
Source: MTM