MR Racing Restyles Audi A7 3.0 TDI Sportback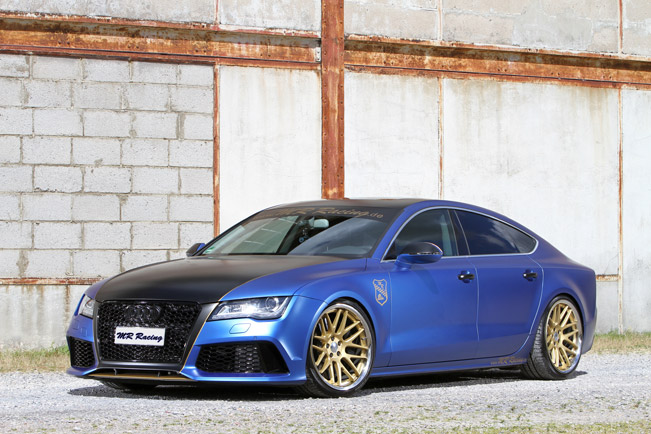 MR Racing Audi A7 Sportback 3.0 TDI is also called the Blue Wonder. The tuners at MR Racing decided that it is time to make a project involving the A7 Sportback and make it even more elegant and extrovert. For a sportier look, they have added aggressive front apron, which we have seen on the RS7 model. Then, the initial exterior color of this Audi was covered with full foil application in matte blue metallic. To highlight further the foil, the experts added matte black and golden accents on it.
To harmonize the exterior additionally, MR Racing have chosen 10x20-inch Emotion Wheels Concave rims in matte gold. The elegant single-piece units were then fitted with Pirelli P Zero Silver tyres in the dimension of 265/30R20.
An electronic KW DLC-kit was added, which permits varying and programming the driving and standing height of the factory-side air-suspended chassis via iPhone-app. Behind the wheels, the tuners added 400/370 mm brake disc of the ceramic brake system.
Next, the power of the 3.0 TDI engine was optimized viasoftware. The result is an increased output from 204 hp (150 kW) to 299 hp (220 kW) and torque from 450 Nm (332 lb-ft) to 612 Newton metres (452 lb-ft).
This Audi was also added a sound generator, which was adjusted to the A7 3.0 TDI exhaust system. It is a special construction with an adaptation module, which gives the common rail self-ignitor the sound range of the large V8 models.
MR Racing did not left the interior untouched. For instance, the tuners added a multifunctional sports steering wheel with a flattened bottom in combination with in-house aluminium switching rockers. There is also a 15-inch ceiling screen in the rear area and a module for watching DVD and TV. The final element that completed this customization are the soft foot mats with the MR Racing logo.
Source: MR Racing