Mitsubishi Delica D:5
Mitsubishi Motors Corporation today announced the Japanese market launch of the fully redesigned Delica D:5, a minivan that delivers monobox roominess and utility together with high levels of performance and stability in on- and off-road driving. The 2.4-liter 4WD Delica D:5 goes on sale at affiliated dealerships throughout Japan today carrying a tax inclusive price tag ranging from ¥2,614,500 to ¥3,412,500.
The fifth iteration of the series, Delica D:5 inherits and builds on the strengths of the Delica brand philosophy: a peoplemover that transports its occupants to their destination in safety and comfort under all driving conditions. Covering running performance, body structure and cabin environment, Delica D:5 has undergone a full redesign to a development theme of fusing minivan people-friendliness with SUV tough and strength.
Although classified as a monobox minivan, in line with Mitsubishi Motors' All Wheel Control (AWC) vision of active safety Delica D:5 sports electronically-controlled 4WD, Active Stability Control (ASC) together with ample obstacle clearance angles and ride height to give it improved running performance and stability both on- and off-road. Other features that will instill a greater sense of safety and reassurance in its users include a new hoop-design "rib bone frame" body structure, a driver SRS knee airbag standard on all models, and for the first time on a Mitsubishi brand model the use of plastic resin fender panels that are pliant and have superior shape recovery properties.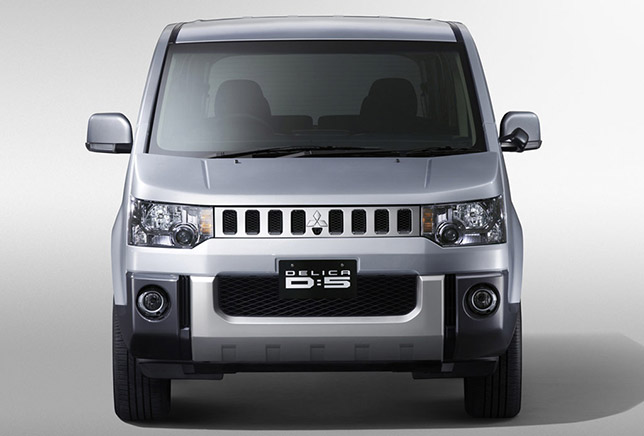 Delica D:5 presents the first full manifestation of Mitsubishi's Cocochi interior*1 developed around three central themes: Clean; Stress-free; and Reassuring & Safe. In realizing a cabin environment that encourages occupants to relax in reassuring comfort, all models are fitted as standard with UV/IR solar control glass that cuts the amount of ultra-violet and infra-red radiation penetrating the cabin, a deodorizing Clean Air Filter and an odor-eating head lining that eliminates or reduces living odors, cigarette odors and volatile organic compound (VOC) levels.
Delica D:5 also offers outstanding environmental performance: with the equivalent of a 4-star rating for emissions that are 75% lower than required by Japan's 2005 Emission Standards and qualifying for Vehicle Green Tax exemption by returning fuel consumption that is 10% better than Japan's 2010 Fuel Economy standards.
Based on three central themes — Clean, Stress-free and Reassuring & Safe — the cocochi interior is a generic term coined by Mitsubishi Motors to describe the features and components used to provide an occupant-friendly cabin environment that is healthy and comfortable.
I. Delica D:5 product features
Exterior
Delica D:5 presents a striking road-presence with all-terrain ride height traditional to the series and a boxy body sitting on large wheels and tires. The linear styling treatment produces a handsome and ageless exterior design that readily communicates its functional qualities. The front fascia uses a powerfully crafted vertical bar grille to join the headlamps together in a straight band and project a wide, purposeful look. The rear end shares a similar treatment with the combination lamps and tailgate garnish running the full width of the tail in a single band in a frill-free and clean design. Front and rear bumpers feature skid plate styling to project the vehicle's SUV tough personality and use a functional sectional design that facilitates repair work for minor damage.
Interior
The roof garnish-to-pillar trim styling highlights the hoop-design rib bone frame to create a cabin landscape that appears to cocoon the occupants and instill a reassuring sense of being safely protected. The dashboard features a powerful surface composition of functionally defined and optimally located blocks designed to give the driver intuitive and optimal access to switches and controls. The speedometer cluster located in the block opposite the driver employs a precision instrument motif in its design. Coloring
Delica D:5 is offered in 14 body colors. Seven two-tone color schemes highlight the vehicle's SUV tough and high-mobility qualities while seven monotone colors give expression to its premium-value and choice quality attributes. Hinting at the grandeur of Mother Nature the brand-new Jade Green Mica is offered for both 2-tone and monotone body colors. Two interior color schemes are offered: Dark Grey that has a strongly active bias and Beige that projects a stronger feel of comfort and fine texture quality.
Packaging
Delica D:5 features a high-efficiency packaging layout that provides 100 mm more interior height despite having a ride clearance that is 20 mm higher and an overall height that is 100 mm lower than its predecessor Delica Space Gear. Delica D:5 sports obstacle clearance angles that are on a par with a crossover SUV and allow it to deliver serious off-road performance: 24° approach angle, 18° ramp breakover angle, and 21.5° departure angle. Both 2nd and 3rd row seats sit on longer slide rails, allowing the seating to be ideally tailored to different passenger and luggage loads and assuring generous knee room in all seats even when slid right forward.
Powertrain
Delica D:5 uses an improved version of the compact 2.4-liter 16-valve DOHC MIVEC engine with aluminum die-cast cylinder block that has won high critical acclaim in powering the Outlander and that was developed to a high-power, low consumption, lightweight concept. All models earn a 4-star rating for emissions that are 75% lower than Japan's 2005 Emission Regulation requirements and return mileage that is 10% better than the 2010 Fuel Economy Standards and thereby qualify for Green Vehicle Tax exemption status.
The engine is mated to Mitsubishi's INVECS-III CVT (available with 6-speed Sport Mode) that automatically shifts to the optimal gear ratio for a given engine speed to return superior fuel economy and deliver crisp response. INVECS-III CVT 6-speed Sport Mode models are fitted with Paddle Shifters that allow the driver to change gear manually with both hands on the steering wheel. (Standard on G-Power package, G-Navi package and G-Premium trim lines.) All Delica D:5 models use Mitsubishi's electronically controlled 4WD system that optimally tailors front/rear wheel torque split to the driving conditions. A selector dial next to the shift selector allows the driver to switch between three drive modes: 2WD, 4WD AUTO and 4WD LOCK.
Body
Delica D:5 employs a "rib bone frame" design that uses closed-section joins to link the pillars, roof bows and underfloor cross members in hoops at the pillars and the tailgate opening to realize significant improvements in body rigidity and durability as well as to provide outstanding crashworthiness. Delica D:5 makes more extensive use of rust-resistant steel in the floor structure than Delica Space Gear. Body corrosion resistance has also been significantly improved through the more extensive use of underfloor sealing and with the application of more undercoat.
Delica D:5 uses fender panels made of a plastic resin that is flexible and can recover its shape. The switch to this material reduces weight by about 4 kg and makes the fenders more resistant to damage in minor impacts.
Delica D:5 is available with power sliding rear doors and an electric tailgate (all with anti-trapping protection) that can be operated either using the outer or inner handles or the keyless entry remote unit. The G-Premium model comes with power sliding doors on both sides and electric tailgate as standard. G-Navi package and G-Power package models have a power sliding door on the nearside as standard, while the electric tailgate is available as a factory-fitted option (all with anti-trapping protection).
Available on all models is a Triple Panorama Sunroof that locates independent glass panels over the front, 2nd and 3rd row seats as a factory-fitted option. The front seat and 3rd row seat tilt-up panels are manually operated while the 2nd row seat panel has power tilt-and-slide operation. All Delica D:5 models come equipped as standard with an Active Cornering Light (ACL) system that optimizes the area illuminated at intersections and through corners on mountain roads. The system is synchronized to steering wheel position as well as to turning signal operation.
Chassis
All models, apart from the M grade, are shod as standard with 225/55R18 tires on new designed light and stiff 7-spoke alloy road wheels. M has 215/70R16 tires on steel wheels with full wheel covers. Delica D:5 uses the MacPherson strut front / multi-link rear suspension well received on Outlander. All Delica D:5 models are fitted as standard with Mitsubishi's Active Stability Control (ASC) system that prevents the vehicle skidding on slippery surfaces or as the result of sudden steering inputs.
Interior trim and appointments
The glovebox is divided into temperature-controllable upper and lower sections. The tray at the bottom of the upper section can be removed to join the two sections large enough to stow two liter-size bottles in an upright position. All models, apart from the M grade, are fitted as standard with Relaxing Interior Illumination, a cabin lighting system adjustable for brightness that provides LED indirect lighting to illuminate behind the dashboard center panel, under the center console, the front door upper pockets and the ceiling. Beige and Dark Grey scheme interiors use white and blue LED lighting respectively.
Delica D:5 comes with six Multi-use Hooks in the quarter trim, four in the tailgate trim and four in the roof beam garnish that are handy for attaching accessories or for securing luggage or cargo. The nearside 2nd row seatback features a lever actuated walk-in & tilt-up mechanism to facilitate access to and from the 3rd row seats. Lengthy 340 mm slide rails and a side flip-up mechanism allow the 3rd row seating to be optimally arranged to match occupant and luggage space requirements. On G-Premium models the 3rd row seats have a bungee cord that is useful for securing small items.
Entertainment
Standard on G-Premium and a factory-fitted option on the G-Navi package is a Rockford Fosgate premium sound system that uses a 860 Watt amplifier, 12 speakers and 5.1 channel Dolby Digital/ Digital Theater Sound (dts) surround sound technology to create an awesome sound field with superior tone quality. Standard on G-Premium and G-Navi package is a 30 GB hard disk drive on-board navigation system with 7-inch LCD monitor that uses dedicated LSI circuitry for ultra-fast route search. Mounted in the rear cabin ceiling and available as a factory-fitted option on G-Premium and G-Navi package is a 9-inch wide display with built-in DVD/CD player and infrared headphones. 8. Safety and peace of mind features
All models are fitted as standard with driver and front passenger SRS dual-stage airbags that deploy in one of two modes depending on the severity of the impact to provide optimal occupant restraint and location and, a first on a Mitsubishi brand model, with a SRS knee airbag for the driver. Available as a factory-fitted option on all models are SRS curtain airbags that provide better head protection for occupants in all three rows of seats.
Other passive safety features designed to mitigate occupant injury in a crash include front seats that are designed to reduce impact forces on the neck and that use a cross member under the squab to limit forward movement. In addition, 2nd and 3rd row seats use a strengthened seatback frame to prevent luggage intrusion into the cabin. Measures providing pedestrian impact protection include a redesigned front hood hinge and latch and the use of plastic resin fenders. Standard on G-Premium and G-Navi package models is the Multi-around Monitor system that displays pictures of left and right forward directions, the sides and the rear on a dashboard monitor to supplement the driver's direct vision and eliminate virtually all blind spots around the vehicle.
Cabin environment: the cocochi interior
All seats use dirt-protection upholstery fabric, the surface of which that has been coated with a fluorine resin using an acrylic resin binder to provide enhanced water and grease repellency. Delica D:5 uses a deodorizing Clean Air Filter and odor-eating head lining to reduce and limit everyday-life odors, cigarette odors and volatile organic compounds and provide a clean and comfortable cabin environment.
All models use UV/IR solar control glass in the windshield and front door windows to reduce penetration of ultra-violet and infra-red radiation into the cabin. The use of water-repellent glass in the front door windows (M grade excluded) improves driver visibility when driving in the rain.
Other features
Specially designed to further enhance Delica D:5's attractive qualities is a comprehensive range of dealer-fitted accessories. Included are bumper protectors, underguard bars and other dress up parts that bring out the full flavor of Delica D:5's off-road styling taste. A heavy-duty roof carrier and rear ladder are just two examples of items designed to bring further convenience and utility to the outdoor adventure experience. And the new sub-battery system allows hours and hours of DVD's entertainment on the navigation monitor and rear cabin display as well as powering accessory sockets or supplying the AC power source without having to keep the engine running.
Available as a factory-fitted option for specially-equipped vehicles is a Power Side Step the deployment of which is synchronized to the opening and closing of the nearside sliding door.