Mitsubishi Concept-ZT
The Concept-ZT showcases an advanced level of driving pleasure, safety and environmental responsibility — Mitsubishi Motor's vehicle strategy — wrapped in a realistic package. Under the hood, a newly developed fuel-efficient, 2.2-liter clean diesel engine is mated to the new Twin Clutch SST (Sport Shift Transmission). Concept-ZT also features advanced active safety as well as passive safety technology, such as its pop-up hood.
Design
The basic exterior form, simple and flowing with a low center of gravity, yields a sense of stability and sportiness fitting Mitsubishi Motors' premier sedan This base is combined with a powerful shoulder line, substantial side panels and projecting fenders. Sculptured headlights, grill and aluminum wheels proclaim quality and status created out of "Japanese" sensitivity — a sophisticated and adult sensibility.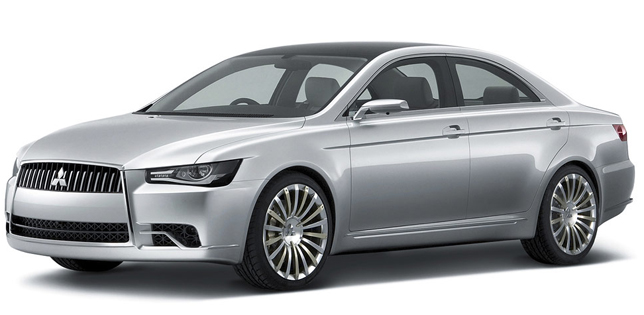 In the interior, the goal was a level of "hospitality" that would resonate with all the senses of the occupants. Combinations of designs with clear contrasts — simple forms with overall continuity gently embrace passengers and precise, hard functional parts — express the melding of quality, comfort and the pleasure of driving. Meters and monitors are of clear materials, futuristically stacked, with the beauty of industrial art.
Minute quantities of a new reflective material add elegance to the body color. In combination with decorative parts, including wheels and grill, a radiant presence is realized with a sense of quality and refinement, like jeweled layers of precious metals. Interior colors are a combination of grained black wood, metal and leather, making maximum use of materials expressing boldness, sophistication and grace.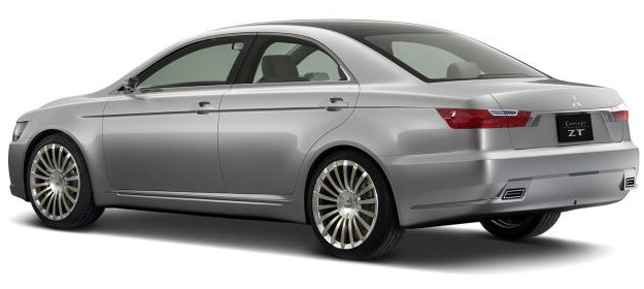 Powertrain/S-AWC
The concept's powerplant is a newly developed 2.2-liter 4-cylinder DOHC, 16-valve with VD (Variable Diffuser)/VG (Variable Geometry) clean turbodiesel engine with common-rail direct fuel injection (piezoelectric injector) that delivers a maximum output of 140 kW and maximum torque of 400 Nm.
The power unit is mated to Mitsubishi's new Twin Clutch SST, which delivers superior power transmission efficiency in a powertrain that realizes smooth, responsive, effortless power and acceleration, whether on the highway or in urban areas, together with good fuel economy. The S-AWC system combines front E-LSD (Electric control - Limited Slip Differential), ABS and ASC with the 4WD electronic control system also used in Outlander and Delica D:5. This optimally controls driving force, traction and braking at all four wheels, and provides stable driving on various road surfaces under various conditions, realizing a pleasurable and safe driving experience.
Body Structure
As in the i MiEV SPORT, the aluminum space frame structure combines aluminum extrusion and aluminum die casting, not only realizing a body of great strength and rigidity, but contributing to weight reduction and crashworthiness. In addition, for the outer panels of hoods, fenders, doors and trunk lids, shock-resistant, recyclable resin is used, as seen on the front fender of the Delica D:5.
Safety Technology/Driving Assistance Technology
Pre-crash Safety System: Using millimeter-length radar waves, the system detects cars far ahead as well as obstacles in the adjacent lane. When it determines that objects near the car are too close and there is danger of a collision, it warns the driver to take action. If the system determines that the possibility of a collision is nevertheless quite high, it pretensions seat belts and activates crash-restraint seat cushions to increase passenger restraint, and initiates emergency braking to reduce the impact of an imminent collision.
Lane-Drift Warning System
The system consists of a front camera, steering angle sensor, speed sensor, yaw rate sensor and ECU. The front camera recognizes lane markings (white lines, etc.), and the system, based on information from the other sensors, calculates the possibility of the vehicle drifting out of its lane, warns the driver, and adds steering torque in the direction such that the car stays within the lane.
Pop-Up Hood
If the car should hit a pedestrian, the hood pops up before the person's head strikes the hood, acting as a buffer and minimizing injury to the head.
New All-Around Multi-Monitors
In addition to a nose-view camera and a rear-view camera, cameras with extremely wide-angle lenses are positioned at the left and right sides. Optical distortions of the images from the four cameras are corrected, and the information is converted into a display of the situation all around the car as seen from the top — thus enabling clear confirmation by the driver. The nose camera is also part of the proximity-detection function for approaching objects.
Parking Assistance System
A distance sensor, embedded in the bumper, assesses the space available for parking. If parking is possible, the system will automatically maneuver the wheels (steering) while all the driver must do is control braking.