Mitsubishi Concept PX-MiEV II
Mitsubishi will reveal Concept PX-MiEV II at the 42nd Tokyo Motor Show.
The vehicle is practically the same as the first PX-MiEV, but the new model comes with revised front and rear bumpers, new headlights and taillights. There are also different wheels and hatch-door.
Mitsubishi Concept PX-MiEV II is a plug-in hybrid featuring a 2.0 liter MIVEC four-cylinder petrol engine with 95PS (70 kW) and two 90PS (66 kW) electric motors, one on each axle. PX-MiEV II has an all-electric range of 50 km (31 miles) and an overall range of a nice 800 km (497 miles). This means 169 mpg – 1.66 litres per 100 km.
Mitsubishi Concept PX-MiEV II stands on big 18" alloy wheels fitted with 235/55 R18 low-resistance tires.
The dimensions are - 4660 mm in length, 1830 mm in width and 1680 mm height.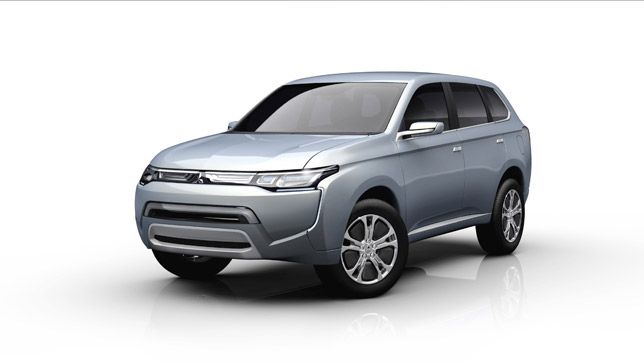 Mitsubishi Concept PX-MiEV II Specification:
Overall length
4660 mm
Overall width
1830 mm
Overall height
1680 mm
Occupants
5
Motors

(front and rear)

Type
Permanent magnet synchronous
Max. output
60kW each
Engine
Type
2.0L MIVEC 4-cylinder
Generating capacity
70kW
Target motor-only driving range
> 50 km
Target combined cruising range
> 800 km
Target combined fuel efficiency
> 60 km/L
Drivetrain
Twin-motor 4WD with S-AWC
Tires
235/55R18
Source: Mitsubishi