Mini Cooper S by Cam Shaft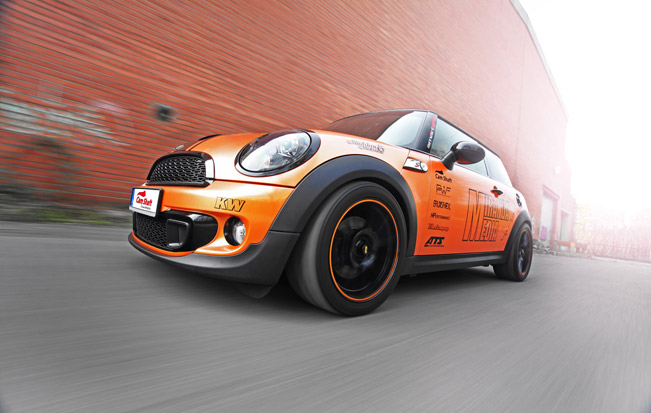 Mini Cooper S by Cam Shaft has a completely changed visual identity. The main reason for this is the applied foil wrapping that the specialists at the tuning company Cam Shaft has done on the popular model. In addition to it, the tuners have also performed an engine optimization and now the car is capable of delivering nearly 60 hp more power.
Mini Cooper S has been subjected to a two color complete wrapping. Up to the waistline it was decided in shiny orange with pearl effect. The colons, roof and chrome parts were made in glossy black. The flared wheel arches got a mat black contrast.
The serial Mini can produce up to 184 hp (135 kW). With the help of the specialists at PP performance, Cam Shaft upgraded the power of the car via software optimization and the result is 240 horsepower (176 kW).
In addition, what also has been done here are the modified the air inlet with sports air filter, complete new exhaust system including sports cat, down pipe and valve commanded axle back exhaust with remote control.
In terms of driving dynamics, this MINI now boasts V2 KW coilovers, which reduce the rolling inclination in sharp bends, and a really predestined for the Mini tire-wheel-combination. The latter comprises of very light and glossy black powder coated ATS aluminum rims in the dimension of 7,5x17" fitted with Toyo semi slicks in size of 215/45-17.
Source: Miranda Media