Mercedes SL 65 AMG Black Series vs Ferrari 458 Italia [video]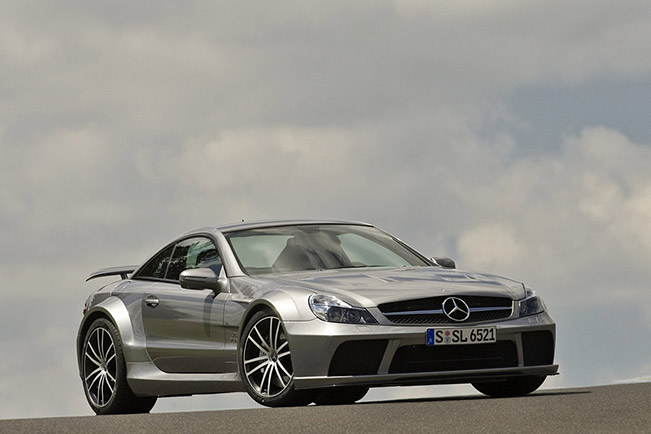 Dragtimesinfo has published an interesting drag race video with Mercedes-Benz SL 65 AMG R230 Black Series (stock) going against Ferrari 458 Italia (stock) and a tuned Mercedes-Benz ML 63 AMG Gorilla Racing with 700HP.
The SL 65 is powered by a 6.0 liter V12 Bi-Turbo with 670HP (493 kW) at 5,400RPM and 1,000Nm (740 lb-ft) of torque at 2,200RPM. 0-100 km/h in 3.8 seconds, 0-200 km/h in 10.9 seconds and ¼ mile in 11.6 seconds with 202 km/h (126 mph).
Ferrari 458 Italia has a 4.5 liter naturally aspirated V8  - 570HP (419 kW) at 9,000RPM and 540Nm (399 lb-ft) at 6,000RPM. This means the incredible 127 HP/liter. The curb weight is 1,380kg, so it has a power-to-weight ratio of 2.42 kg/hp. 0-100 km/h in 3.4 seconds and a top speed of 325 km/h (202 mph).
The first start was between the 458 Italia and the SL 65 AMG. It was really intense and both cars were neck in neck during the whole 1 mile run. Still, the 458 Italia managed to win the race with 29.267 seconds with 283.7 km/h, while the SL 65 AMG needed 29.630 seconds with 295 km/h terminal speed. The ¼ mile times are 11.854 seconds and 12.074 seconds, respectively.
The second start is between the SL 65 AMG and the ML 63 AMG Gorilla Racing. Of course, the Roadster humiliated the big SUV. The SL 65 AMG crossed the finish line in 28.996 seconds with 298 km/h (which is more than enough to beat the Ferrari) and the ML 63 AMG in 30.142 seconds with 269 km/h.
Enjoy!
Source: Dragtimesinfo via Youtube