Mercedes-Benz Sprinter Caravan Concept - Safer, Cleaner, More Comfortable and Striking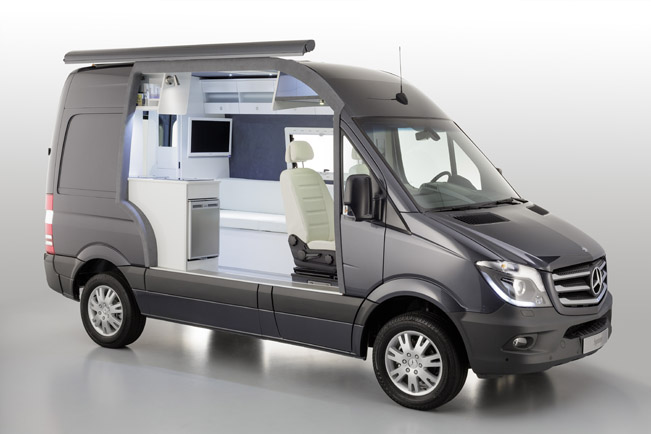 Mercedes-Benz will be showcasing the new Sprinter Caravan Concept at the Caravan Salon in Dusseldorf from 31st August to 8th September. The special Sprinter is now even safer, cleaner, more comfortable and more striking.
The exterior boasts tenorite grey metallic, high-roof and a cutaway section revealing a living area with front seats turned around and a spacious side-facing bench seat – which can be pulled out to form a double bed – a kitchen to the left of the opening and a bathroom with integrated wardrobe fitted in transverse position in the rear.
The cut-away model is fitted with furniture featuring a hard-wearing HPL coating in high-gloss white, grey laminate flooring, and seats featuring white genuine automobile leather from Mercedes-Benz. This combination lends the interior the elegant character of a yacht. Side walls and ceiling are covered in Alcantara, with LED lighting throughout. On the outside, the Sprinter sports the new tenorite grey metallic paint finish.
Source: Mercedes-Benz