Mercedes-Benz SLS 63 AMG Roadster Enhanced By Senner Tuning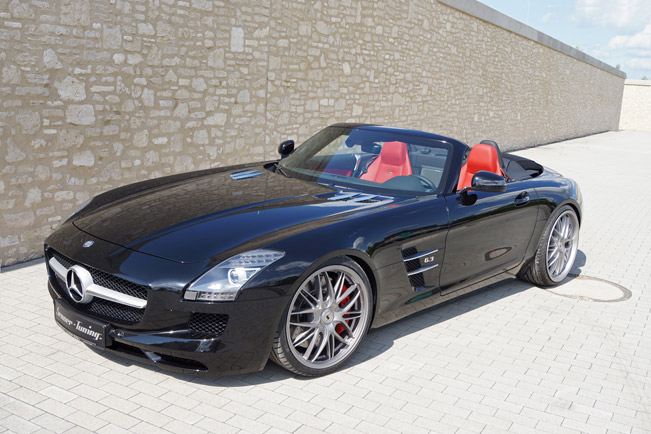 The next tuning for the day is by Senner Tuning which have modified a Mercedes-Benz SLS 63 AMG. Now, even more than ever, the sight of this gorgeous sports vehicle triggers   goose bumps in every car enthusiast.
The tuning specialists based in Ingelheim Germany have equipped this Mercedes-Benz with a small but nice tuning programme which ensures that the one behind the steering wheel will stay noticed wherever he or she goes. To be more precise they have added a special coil-over suspension system of variation 3 from KW Automotive.
In addition, the AMG front rims are replaced with a set of Schmidt Gotham-aluminium ones in titanium gray. They are in dimensions 9 x 20 inches with 255/30R20 and in the rear in 11.5 x 21 inches with 295/25R21 Hankook S1 Evo-tires in the front.
The serial SLS generates 571 horsepower (420 kW) and has a maximum torque of 650 Nm (478 lb-ft). Of course, the german customization professionals boosted the power of the AMG top model by 35 hp (26 kW) and the maximum torque by 40 Nm (30 lb-ft).
They have acheved this through core area adaptation and a precise adaptation to the new exhaust system and the installation of a set of high-performance air filters. In fact, the new exhaust system is made of sophisticated high grade steel and it is fitted with a valve control system. The latter includes a back pressure monitored control system for individual sound volume adaptation with four different modes.
Source: Senner Tuning AG