Mercedes-Benz Releases Two 2015 C-Class Commercials [VIDEO]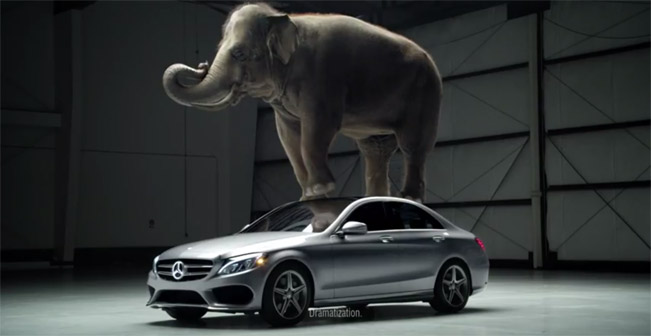 2015 Mercedes-Benz C-Class Sedan has debuted at the end of last year. Now the company is making the first steps of promoting the car throughout the United States via couple of video ads. In them, as you can see below, Mercedes-Benz has once again shown its strength characteristics. The 2015 C-Class is the "lightest, strongest, smartest, quietest, sleekest, sexiest, safest, quickest" C-Class ever built. No matter where one looks, in these adds the new model boasts automotive innovation from every angle.
The car is built around new and more lightweight, resculpted frame that houses a more powerful and efficient engine. There is also an ingenious touchpad control inside that can read handwriting. The new generation C-Class is longer and wider than its predecessor with 80 mm, due to the implementation of a longer wheelbase. The result is more comfort for the rear passengers which will enjoy an increased leg-room.
The car will be offered in three trim levels: C300, C300 4MATIC and C400 4MATIC. C300 4MATIC is powered by the turbocharged 2.0-liter four-cylinder engine, which produces 241 horsepower (177 kW) and 310 Nm (229 lb-ft.) of torque at 6,500 rpms and is mated to a seven-speed automatic transmission.
The C400 comes with an all-wheel drive and is driven by the twin-turbocharged 3.0-liter V6 engine. It produces 329 horsepower (342 kW) and a healthy 480 Nm (354 lb-ft.) of torque. This unit uses the same transmission as the previous one. Later this year more diesel and hybrid versions are also expected to be offered in the United States.
2015 Mercedes-Benz C-Class Sedan is currently available to order in the United States from a starting price of $38,400 USD.
Video Source: YouTube