Mercedes-Benz E 300 BlueTEC Hybrid - 4.2 l/100 km and 109 g/km of CO2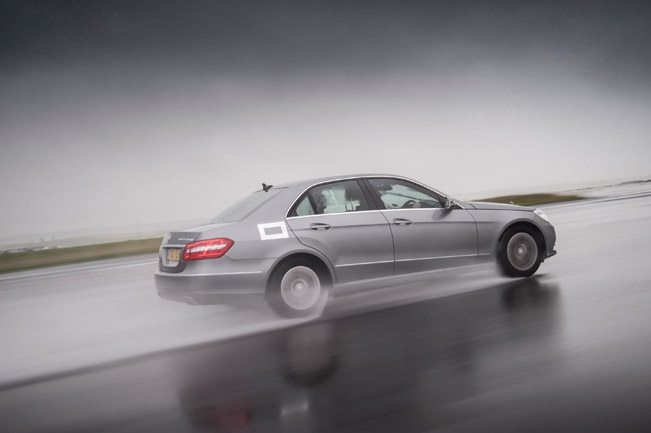 Mercedes-Benz E 300 BlueTEC HYBRID has been put on a challenge in order to test the theory in the real-world. The very first example of the car to arrive in the UK set out on an economy run – with a twist – to prove that driving fun and efficiency can be combined. The stated data is sensational – 0-100 km/h in 7.5 seconds and a top speed of 242 km/h (150 mph). What is more, the big family saloon can achieve a fuel consumption of just 4.2 liters per 100 km with emission of 109 g/km of CO2.
First, driving duties were handed over to ex-rally driver Mick Linford. Next, the E 300 BlueTEC HYBRID started its economy run in the unlikely surroundings of the main runway at Newquay Cornwall Airport – the most southern active airport in mainland Britain. Here the car accelerated from rest to 62 mph in a little over seven seconds before achieving a peak speed of 136 mph.
The car was then driven entirely normally the 830-miles north to its counterpart in Scotland – Wick Airport – the most northern airport in mainland Britain. Over the course of the two-day journey it encountered real-world driving conditions, including heavy traffic, diversions and challenging weather.
On arrival at Wick Airport the E 300 BlueTEC HYBRID achieved a maximum speed of 120 mph down the runway, which was 911 metres shorter than at Newquay.
The engineering team behind the E 300 BlueTEC HYBRID aimed to strike a balance between delivering everyday economy and performance, when required. Over a distance of 830-miles and two days, the car achieved a peak speed of 136 mph. It returned economy of 67.3 mpg.
The entire trip was carried out on a single tank of fuel – of which a quarter remained on its arrival in Wick. Had the car carried on driving it would have achieved a theoretical range in excess of 1,100-miles.
This extraordinary economy is made possible through a hybrid system linked to the efficient four-cylinder diesel engine - an electric motor is mounted within the 7G-TRONIC PLUS automatic transmission. The gearbox substitutes a torque converter for a wet clutch system, therefore allowing for the internal combustion engine to be disengaged entirely via the clutch and for electric-only drive to be maintained for short periods, boosting economy. The system is intricately packaged within the vehicle so as not to impact on the load capacity of the E-Class in any way.
The new E 300 BlueTEC HYBRID is now available on the market in both saloon and estate models. Prices start at £39,645 OTR for the saloon and £41,435 OTR for the estate.
Source: Mercedes-Benz