2015 Mercedes-Benz C-Class Sedan US Pricing Announced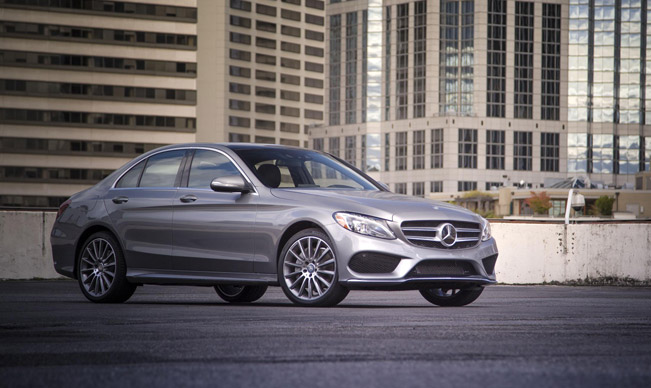 2015 Mercedes-Benz C-Class Sedan has been shown for the firs time at the end of last year. Now the company is announcing the US pricing of the car, next to the already announced price tag of the new GLA. The C-Class will be launched later this month, while the GLA SUV – in September. The new generation C-Class is longer and wider than its predecessor. The total increase in length is due to the 80 mm longer wheelbase. This means that the rear passengers will enjoy an increased leg-room.
There are three trim levels of the 2015 C-Class: C300, C300 4MATIC and C400 4MATIC. Below is listed the exact US price of each. C300 4MATIC is driven by the turbocharged 2.0-liter four-cylinder engine. It generates 241 horsepower (177 kW) at 5,550 rpms and 310 Nm (229 lb-ft.) of torque at 6,500 rpms. The seven-speed automatic transmission immediately sends the power to the rear wheels.
The C400 comes with an all-wheel drive. It is powered by the twin-turbocharged 3.0-liter V6 engine. It produces 329 horsepower (342 kW) and a healthy 480 Nm (354 lb-ft.) of torque. This unit uses the same transmission as the previous one. Later, diesel and hybrid versions are also expected to be offered in the United States.
The new gen model offered by Mercedes raises the bar again with new levels of technology, safety, expressive design and sophistication. The new safety equipment, which has already debuted on the new S-Class, is now featured in the new C-Class. It includes COLLISION PREVENTION ASSIST PLUS, which is radar-based system that can brake autonomously to avoid collisions. It can also minimize their effects in combination with PRE-SAFE that prepares the car if a collision is coming.
2015 Mercedes-Benz C-Class Sedan Pricing And Launch Timing:
2015 C300 - $38,400, Q1 2015
2015 C300 4MATIC - $40,400, August 25, 2014
2015 C400 4MATIC - $48,590, August 25, 2014
Source: Mercedes-Benz