MEC design Mercedes-Benz W204
MEC design have released an overhauling program for the Mercedes-Benz C-class. It covers all the W204 range – from the C180K to C63AMG. Nothing groundbreaking – Just a bit of sound and style, a dash of chrome, and some carbon fiber.
To start off, we have a set of special "mecxtreme III" 1-piece 9x20" wheels, wrapped in 235/30 ZR 20 all rounders. A choice between two rear diffusers is given. One is carbon fiber, the other isn't. Also, both of them are only compatible with the C63 Coupe with AMG Styling kit (sports package), post 2011. Then there's some badging – A chromed "MEC Design" logo for the boot lid and – a replacement for the Mercedes-Benz star – a "MEC Design" emblem.
Inside, four floor mats finished with precious velours/ nubuck-leather embroidery and a MEC Design-logo will set you back 171 euros ($228). An even more voluminous expense is the MEC steering wheel which will be yours for 1,250 euros ($1,673) in exchange for the old one. Make that 1,440 euros ($1,928) if you want carbon inserts in it. Other than that, the wheel is said to be ergonomic with perforated leather on the handling area and MEC design inscriptions at the lower end.
Finally, to make sure that you don't go anywhere unnoticed, MEC have provided some artillery pieces – two stainless steel mufflers with four oval tailpipes, sizing 115x85mm. The 4 cylinder models C200CGI, C250CGI should also get a splitter Y-piece pipe so that they can accommodate the two mufflers from each side. Here's how a C63 AMG makes use of that orchestra: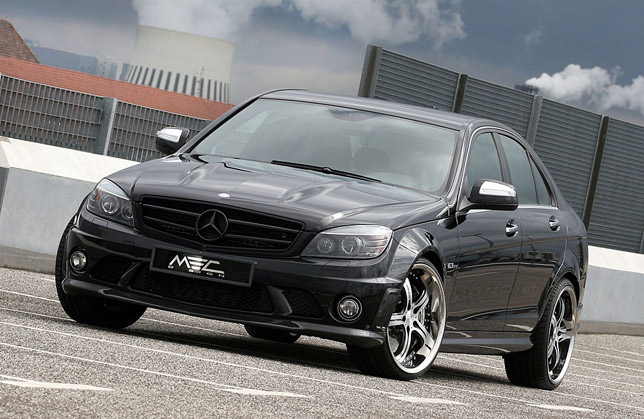 Source: MEC design