MEC Design Mercedes-Benz SLS 63 AMG
The SLS 63 AMG is a living legend even now – there is no doubt about it. Of course, it is anything but simple for any Mercedes-Benz refiner. The Berlin refiner MEC Design thought long and hard about the subject of the SLS and specifically had one imported from American Orlando. Now they present a breathtakingly beautiful complete conversion
Of course, this masterpiece includes a customised body kit. The front bumper is either a single- or two-part construction with attached spoilers, with optional LED inserts (if desired also in carbon) being available as well. The SLS owner must make a difficult decision for the tail bumper, which is offered with three different diffusor inserts. Alternatively, it is also available in carbon. The customer can choose between "Extreme", "Formula" or "GT3". A side sill cover that can be equipped with four LEDs each if desired makes for a more attractive silhouette. A tail spoiler and a two-part pane spoiler, as well as a roof scoop complete the car body set – all three elements also available in carbon.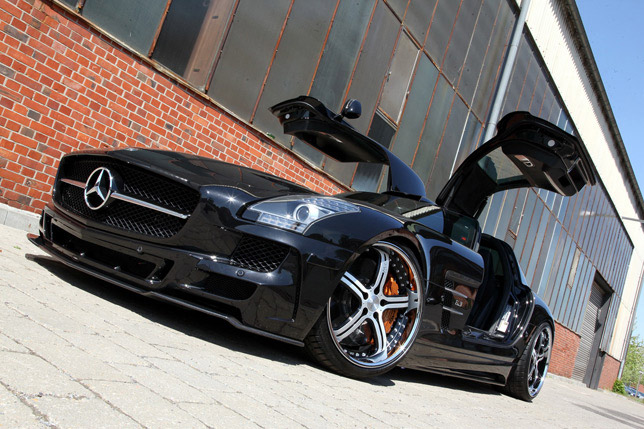 The four mecxtreme3 wheel rims are perfectly elegant and exclusive at once. The front ones are 10.5x20 with 265/30 ZR20 and the rear ones 11.5x21 with 295/25 ZR21 tyres. If desired, they can be combined with 11 or 11.5x20 in front and 12.5x20 in the rear. The chassis of the SLS offers a lift-up system that permits height adjustment of the chassis by 30 mm at the front and rear axle by the push of a button to conquer obstacles like garage entrances or traffic obstacles. The threaded chassis also warrants maximum lowering by up to 70 mm.
A specialty of MEC Design is certainly production of exclusive exhaust systems. The system installed here is a true highlight as well. The stainless steel sport end muffler has a gigantic, very deep and low sound in particular at higher speeds. Of course, the original AMG system can be retained as well – in combination with the four MEC design end pipes.
For the interior of the SLS, MEC Design presents a dedicated collection. The entire carbon interior covers the centre console, the door strips, the entry bars, the seat cover, the seat casing and the compartment between the rear seats with exclusive carbon fibre. Added to this is a set of MEC design rugs with nubuck edge and double seams, as well as a carbon/alcantara sports steering wheel. Finally, the entire trunk of the SLS was edged in alcantara and applied with a double seam and a logo.
Source: MEC Design