McLaren to debut 650S Sprint at 2014 Pebble Beach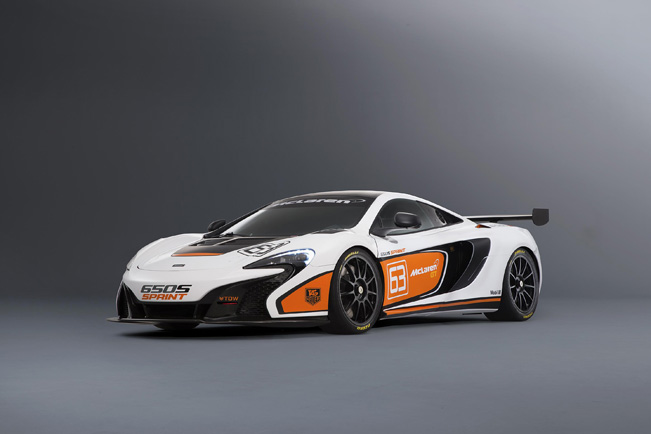 The 2014 Pebble Beach Concours d'Elegance will be remembered with the debut of one more sports car – the McLaren 650S Sprint. This will be the race car's global debut along with a number of other models from McLaren Automotive, four of which will debut at the same Californian event, scheduled for later this year.
As the name of the vehicle suggests the McLaren 650S Sprint is based on the already released McLaren 650S Coupe but the newcomer arrives with a number of important enhancements that include new developments to the Brake Steer system, more refined aerodynamics and a race set-up for the ProActive Chassis Control (PCC). All these improvements deliver a more engaging GT racing experience, without losing any of the refinement and balance found in the road car.
But the new features of the McLaren 650S Sprint do not end here – the new car comes with an aerodynamically optimized design, increased levels of downforce and optimized cooling for the 3.8-liter twin-turbo M838T engine the car comes with. This is the same engine, which is featured in the McLaren 650S Coupe but it also comes with unique engine and transmission calibration for even better on-track driveability and driver engagement. Weight has also been minimized thanks to the strong carbon fiber MonoCell chassis but driver safety has not been compromised. A lightweight carbon fiber HANS-approved racing seat, with full six-point harness, offers an optimized driving position, while an air-conditioning system is retained adding comfort. An integrated fire extinguisher system is also installed.
At the same time the McLaren 650S Sprint shares some design features with the McLaren 650S GT3 race car like a larger motorsport fuel "bag" tank with quick-fill connectors, optimized cooling from the larger GT3-developed front radiator with a GT3-inspired bonnet integrating radiator exit ducts and more. The 650S Sprint  has a lower ride height with recalibrated adaptive damping for revised spring rates, and sits on 19-inch center-locking racing wheels, fitted with Pirelli slick or wet tires, while an onboard air jacking system enables quick tire changes. Stopping power is also enhanced and provided by a race-prepared braking system developed for the 650S Sprint. This system combines with the road car's highly effective Brake Steer system and enhanced active aerodynamics to offer superior braking performance. This allows for later braking into corners, but also improved brake feel and greater cornering speeds. A range of options is also available including a computational fluid dynamics developed aerodynamics package including carbon fiber rear wing and front splitter a passenger seat with six-point harness, and further lightweight components including a polycarbonate windscreen.
In the UK the new McLaren 650S Sprint will cost GBP 198,000 and will be available from all official McLaren retailers around the world.
Source: McLaren Automotive