Showcasing The McLaren MP4-12C by DMC Luxury and PUR WHEELS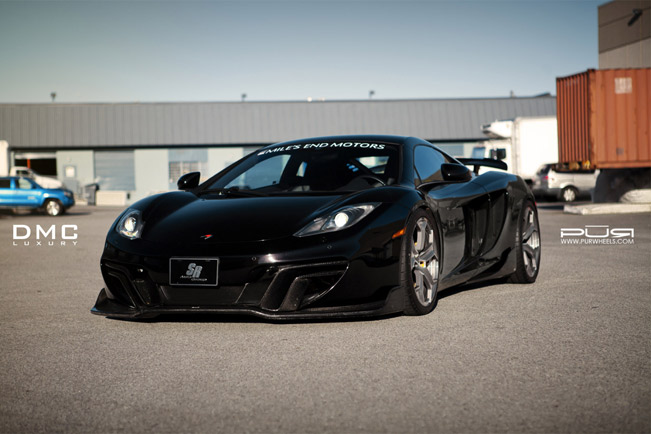 Remember DMC's McLaren Velocita SE? Here it is again with a brand new pair of trainers courtesy of another familiar name – PUR Wheels.
Besides a boost in power to 660 hp, The Velocita SE also boasts a fairly modified exterior. Take the flaring carbon fiber body kit for example. Supposedly, DMC set out to replace the allegedly grinning face of the stock MP4-12C with an "aggressive" bumper. Should we assume that it's frowning now?
Whatever it's doing, it looks different. There's a carbon fiber grill in the center and a jutted lip splitter. Along with the carbon fiber winglets on the sides, those enhancement are said to improve traction on the front axle. At the back DMC must have felt there aren't enough fins on the diffuser so they've added two more on their custom-made module. Ultimately, the exhaust was also scrapped for a titanium one that is supposed to complement acoustically the whole aggressive theme. No self-respecting body kit goes without a custom rear wing too so there's that. Despite the apparent pattern of adding parts, the Velocita is actually lighter than a standard McLaren MP4-12C.
Then, there's the cherry on top. They are actually four of them – PUR TEN alloys finished in Anthracite and measuring at 19 and 20 inches front and back respectively. I guess we were pleasantly surprised by the evident subtlety of that particular point (on the PUR-less Velocita the wheels measured at 21-inches front and back).
Does it all work out fine? Yeah, why not?
Source: DMC Luxury