McLaren to Call its next Sports Series Black Swan?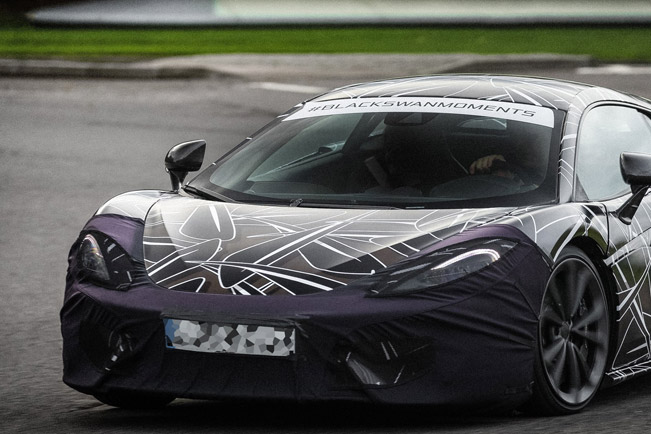 No, don't worry. There is absolutely no chance for McLaren to call its new vehicle Black Swan. Instead, it will be probably dubbed McLaren P13 Sports Series, and more importantly, the company has just officially released a first teaser image of the front of the upcoming racing machine. "Black swan moments" is only a metaphor, which means that something is going against ordinary belief and expectations.
And this is what we can expect from the future P13. From the image we see that the vehicle is currently undergoing testing. Nevertheless, the teaser image above does not show much of the car. In fact, it shows it partially and covered with camouflage.
Although it somewhat resembles a Ferrari, the car definitely looks like a contemporary McLaren. You can see the thin LED headlights as well as ten-spoke alloy wheels. Wing mirrors are also there and they are mounted to the doors, and this is what is similar between the P13 and P1, and different between the first and the 650S model.
This car is being developed and released into production before the Acura NSX makes an official appearance. This means that the McLaren will definitely offer a better car Acura. In addition, McLaren Sports Series is set to take on the admirers of the Audi R8 or the Porsche 911 GT3.
P13 will be based on a carbon fiber monocoque and will be powered by a V8 engine. The rumors say that the unit will be a modified 3.8-liter twin-turbo, and just like the P1 it will be coupled to a seven-speed dual-clutch transmission. Last thing to mention is that the car will be a two-seater.
Source: McLaren via Facebook