The One And Only McLaren 675LT Spider: Why Do We All Love It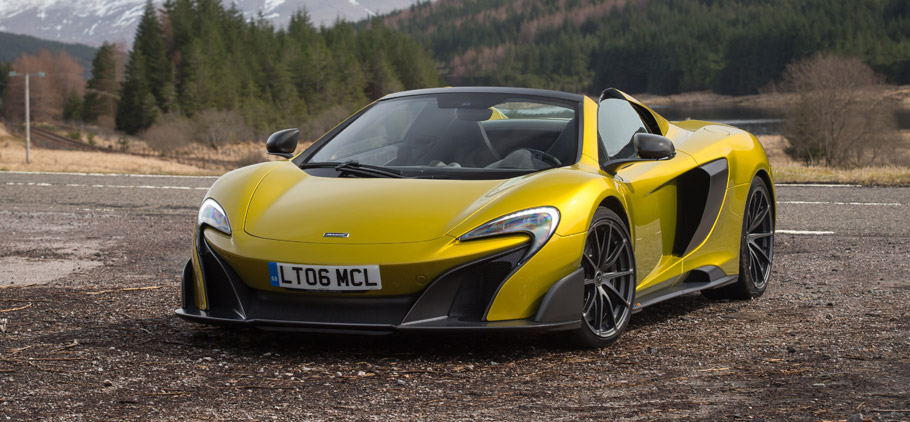 McLAREN 657LT Spider was unveiled at the end of 2015 and marked the next chapter in the history of the iconic "Longtail" name. As you might know, the lineup is limited to only 500 units worldwide that were sold out in just two weeks. The latest model is complete respond to all the customer demands: the 675LT Coupe features light weight, improved aerodynamics, enhanced agility and of course, some exclusive additions  that further boost the feel of uniqueness and luxury.
The focus for the 675LT is clear: the vehicle is especially created to deliver optimal performance rates, excitement and pleasure of driving. And in order to achieve it, the engineering team managed to reduce the weight with 100kg by the extended use of carbon fiber components. Also, under the bonnet there sits the heavily revised 3.8-liter twin-turbo V8 engine that delivers 675hp (496kW) and 700Nm of torque available between 5,000 and 6,500rpm. The revised engine system also includes optimized turbos, detail design changes to the cylinder heads, new camshafts and more.

All this, in terms of performance, means that the beauty accelerates from 0 to 100km/h (0-62mph) in just 2.9 seconds, while the 0-200km/h (124mph) sprint is completed in mere 8.9 seconds. The top speed is 326km/h (203mph) and despite the high performance rates, the 675LT remains relatively efficient: it returns 24.2 mpg on the combined cycle, while CO2 emissions remain at 275g/km. Not that bad, right?
The dramatic styling and confident stance of 675LT is retained with the Spider variant by proudly demonstrating extended front splitter, flanked by front wing end plates, each working the airflow harder and increasing downforce. The carbon fiber door sills run along the lower edge of the bodywork and flow into a smaller air intake ahead the rear wheels.
SEE ALSO: Tesla Model S Significantly Updated! Comes Out with New Face
Also, the retractable hard top strows below a color-coded tonneau cover and the power unit remains visible through a lightweight vended polycarbonate engine cover. The rear also benefits from lightweight titanium crossover twin exhaust exit, placed below the active Longtail Airbrake. And despite the large size of the flowing rear wings, the carbon fiver construction ensures weight reduction and stability.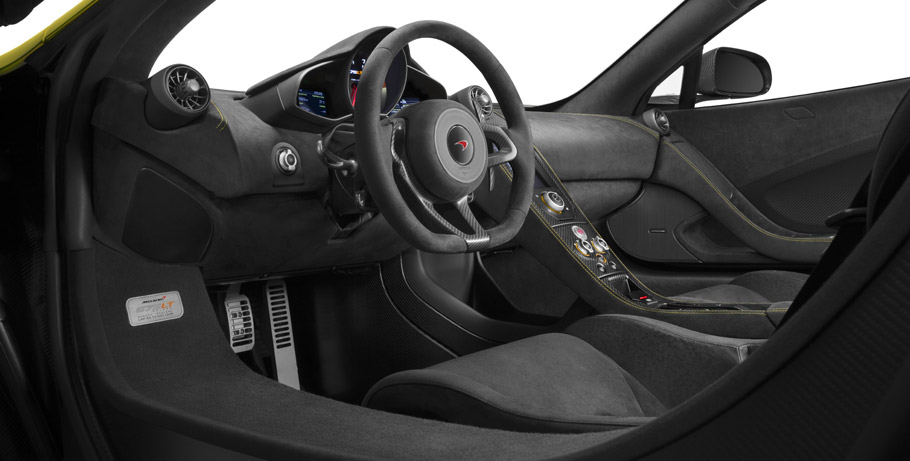 In terms of additional equipment, 675LT Spider comes with 10-spoke Ultra-Lightweight forged alloys, 19-inch for the front and 20-inch at the rear, along with Alcantara and bare carbon fiver components that dominate the interior. Additional features include driver-oriented cluster and four-speaked Meridian audio system.
Source: McLAREN