Mazda Takeri concept car
Mazda will exhibit its Takeri concept car for the first time in Europe at the Geneva International Motor Show, next month.  This is Mazda's next-generation mid-sized saloon featuring unique i-ELOOP regenerative braking technology. It will also be joined by CX-5 compact crossover SUV and MX-5 Special Edition Spring 2012.
The Takeri Concept Car boasts Mazda's KODO – Soul of Motion' design theme, bringing a new level of strength and allure to saloon styling. It is truly remarkable even in stand-still position. The engine is also a new SKYACTIV-D diesel engine with a fuel-saving i-stop system and 6-speed SKYACTIV-Drive automatic gearbox.
Furthermore, the Takeri is the first Mazda car to be equipped with i-ELOOP – short for "Intelligent Energy Loop". It is advanced technology using regenerative braking system to convert kinetic energy to electricity during deceleration and stores it in an electric double-layer capacitor. The power is used to run the vehicle's electric components, thereby reducing the load on the engine and increasing fuel economy by up to 10%. This contributes to the Mazda Takeri's outstanding fuel economy, which is achieved at no sacrifice to performance or comfort.
Mazda's display at the 82nd Geneva International Motor Show will also showcase the company's brand-new SKYACTIV technology as well as the full range of current models.  Press days are 6-7 March, and the show is open to the public from 8-18 March.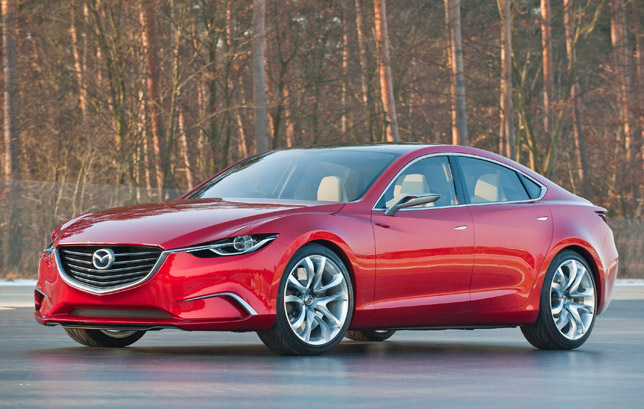 Mazda's exhibits at the 2011 Geneva International Motor Show
| | |
| --- | --- |
| Reference exhibits | Mazda Takeri (European premiere) Mazda CX-5 Mazda MX-5 Special Edition Spring 2012 (Premiere) |
| Technology exhibits | SKYACTIV-D clean diesel engine SKYACTIV-G direct-injection petrol engine SKYACTIV-Drive automatic transmission SKYACTIV-MT manual transmission i-ELOOP regenerative braking system CX-5 'X-ray' display |
| Vehicles currently on sale | Mazda2, Mazda3, Mazda5, Mazda6, Mazda MX-5 |
Source: Mazda