Mazda SKYACTIV-D 1.5 liter Diesel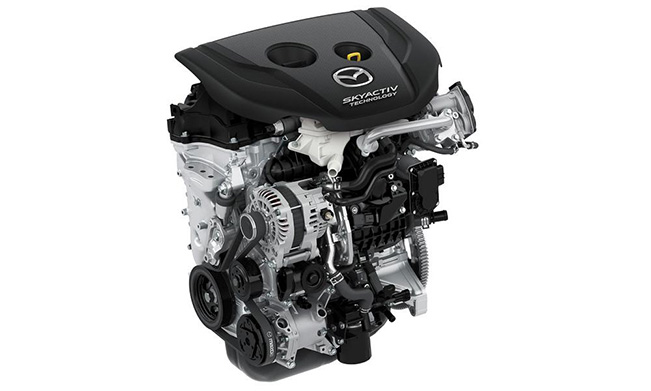 Mazda has unveiled full details about the newly developed four-cylinder, 1.5 liter SKYACTIV-D clean diesel engine. It will power the next generation Mazda2 and boasts a number of technologies improving not only the performance, but the fuel consumption as well. The new engine complies with EURO 6 regulations.
Combined with Mazda's i-stop idling stop technology, i-ELOOP brake energy regeneration system, and high-efficiency SKYACTIV-DRIVE automatic transmission or SKYACTIV-MT manual transmission, the SKYACTIV-D 1.5 will ensure the all-new Mazda2 achieve among the highest level test mode fuel economy figures for a vehicle powered solely by combustion engine in registered vehicles excluding hybrid and micro-mini vehicles in Japan, as well as drastically improved practical fuel economy.
It is another example of how Mazda is implementing its long-term vision for technology development, Sustainable Zoom-Zoom, which promises to deliver all Mazda customers both driving pleasure and outstanding environmental and safety performance.
The new engine delivers 105HP (77 kW) at 4,000RPM and 250Nm (185 lb-ft) of torque at 1,500RPM.
Key features of the SKYACTIV-D 1.5
Development pursued ideal combustion efficiency despite the lowest compression ratio of any small displacement diesel engine—14.8:1.
Cooling loss is suppressed by combustion mode transition control technology, and high dispersion solenoid injectors which, along with stepped egg-shaped pistons, help to reduce contact between the flame and chamber wall.
The range of homogeneous lean burn is extended through the adoption of high-pressure EGR and low pressure EGR systems, resulting in improved fuel economy, environmental performance and performance feel.
Engine cooling system features cooling water control valves (CCV) and water jacket spacers*4 for improved combustion efficiency and reduced mechanical resistance.
Variable turbine geometry turbocharger with rotation sensor delivers plentiful boost pressure from low through to high engine speeds.
Water-cooled intercooler integrated into the intake manifold improves acceleration response and turbocharger efficiency.
Outstanding environmental performance to meet Japan's Post New Long-term regulations and Euro6 emission standards without an expensive NOx aftertreatment system.
Source: Mazda