Mazda Releases Facelifted Atenza in Japan
Mazda Motor Corporation has commenced sales of the facelifted Mazda Atenza (known overseas as the Mazda6) for the Japanese market. Available in three body styles — Sedan, Sport (five-door hatchback) and Sport Wagon — Mazda's globally acclaimed mid-size car has been refined and evolved, and it goes on sale today at all Mazda and Mazda Anfini dealerships throughout Japan.
The Mazda Atenza has attracted a wide range of customers with its sporty styling and exceptional driving performance. The enhancements for the freshened Mazda Atenza are based on the Zoom-Zoom evolution development concept, and include improvements to its environmental and safety attributes, driving performance, interior and exterior design, and quality levels.
The 2.0-liter engine Atenza models, available in both the Sedan and Sport Wagon body types, have been updated with Mazda's direct injection MZR 2.0L DISI*1 gasoline engine. This engine provides plenty of power as well as outstanding fuel economy that exceeds Japan's "2010 fuel economy standard plus 15%." All grades equipped with a 2.0-liter engine qualify for Japan's eco-car incentive program and are subject to 50 percent less tax under the government's eco-car tax reduction program. Additionally, the entire Atenza range, including front-wheel drive (FWD) and four-wheel drive (4WD) grades, qualify as Super-Ultra-Low Emission Vehicles (SU-LEV) by achieving exhaust emissions that are at least 75 percent lower than the levels set in the Japanese Government's 2005 exhaust emissions standard.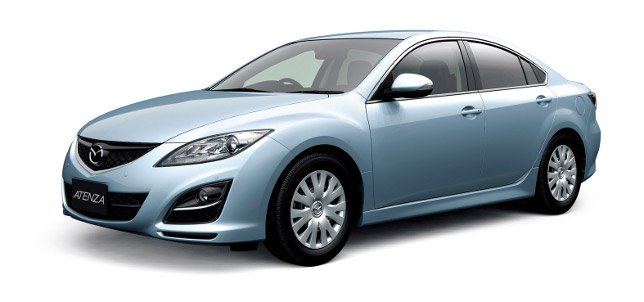 Mazda Atenza Sedan 25EX
(FWD model with MZR 2.5L engine and five-speed automatic transmission)
Improvements to driving performance include updated power steering and suspension settings that have resulted in better handling and straight-line stability at high speeds. With newly optimized front and rear suspension, the freshened Atenza also realizes a stable, more premium quality ride and enhanced comfort.
The exterior of the facelifted Atenza adopts the new Mazda family face with a five-point front grille and other spirited design elements that enhance its sportiness. Both the 17-inch and 18-inch aluminum wheels have new designs, and the range of eight exterior body colors has been augmented with new tints. The brand new colors are Clear Water Blue Metallic and Midnight Bronze Mica, which expresses a premium identity.
Inside, the center panel stack has a smooth, glossy, piano-black finish. Beautiful and tactile chrome plating adorns the climate control and audio dials, and other parts. This color combination in the interior conveys a refined and high quality atmosphere.
The manufacturer's suggested retail prices (including sales taxes) range from 2,100,000 to 2,500,000 yen for the Sedan body type, 2,450,000 to 2,750,000 yen for the Sport model, and 2,250,000 to 2,750,000 yen for the Sport Wagon model. The target sales volume is 800 units per month.
*1 Direct Injection Spark Ignition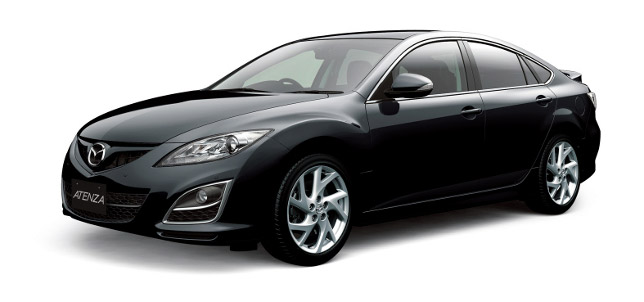 Mazda Atenza Sport 25Z
(FWD model with MZR 2.5L engine and five-speed automatic transmission)
Main features of the facelifted Mazda Atenza
1. Design: emphasized sportiness and premium identity
The Mazda Atenza's design concept is "bold & exquisite." The updated model carries over the solid front face of its predecessor, and retains the beauty, strength and tension conveyed through its simple contours. With enhancements for a stronger expression of dynamism and sportiness, the latest facelifted Atenza expresses a more premium identity.
Exterior
The front fascia features the five-point grille that has become a shared design element of all Mazda products. Strong lines that flow from the grille to the A-pillars, and contours that extend from the bottom of the lower grille horizontally along the foglight bezels, highlight the five-point grille and express sinuous dynamism and stability.
The Sport and Sport Wagon models have a larger brand symbol on their fascia, creating a bolder presence. Additionally, wing-shape moldings the same color as the vehicle body extend sideways from the brand symbol for an added sense of dynamism. The Sedan features a mesh grille and chrome plated decorations, which convey refinement and sportiness.
The 25EX and 25Z model grades feature newly designed bi-xenon headlights. The position lights are aligned with the headlights to produce a sharp wing shape that, combined with chrome-plated inner bezels, produces a look of exquisiteness and expansiveness.
The design of the discharge headlights on the 25S and 20S grades, and the halogen lights on the 25C and 20C grades, has been carried over from the pre-facelift Atenza, but with added chrome plating for a more premium identity.
The part of the rear combination light that curves toward the side of the body has a chrome-plated wing motif. This change gives the rear a stronger impression of width and superior quality. The rear lights' wing motifs are extended on the Sport Wagon to suit its long body shape.
The Sport and Sport Wagon rear lights have clear inner covers and light-emitting diodes (LEDs). The Sedan has red inner covers and conventional bulbs.
Both the 17- and 18-inch aluminum wheels have new designs. The 17-inch wheels have an intricate form with each spoke twisted relative to the wheel center for a look of sporty, high-quality refinement. The 18-inch wheels have bold, strong-looking spokes that communicate dynamism and high-performance.
There are eight exterior body colors. Two colors (Clear Water Blue Metallic and Midnight Bronze Mica) are brand new. Two other colors (Graphite Mica and Black Mica) are new to the Mazda Atenza.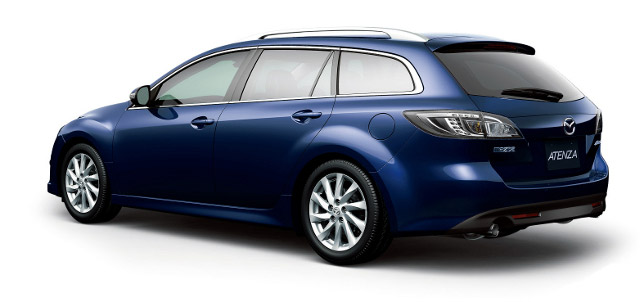 Mazda Atenza Sport Wagon 25EX
(FWD model with MZR 2.5L engine and five-speed automatic transmission)
Interior
In order to enhance the premium feel, a smooth, glossy, piano-black finish has been applied to the center panel, audio and air conditioner panel surrounds. For a consistent interior design, the shift gate and steering wheel spokes also feature the same piano-black finish.
Visually appealing and tactile chrome garnish is newly used on parts such as the climate control and audio dials, shift knob and inner door handles. The piano black and chrome combination renders a refined and high-quality interior environment.
Bold black leather seats and decoration panels with a sporty and refined silver-hairline finish come as standard equipment on the 25EX model grade. To enhance the premium flavor of the 25EX even further, brown leather seats are also available as a factory-installed option for the first time.
The 25Z grade comes with black, half-leather seats and decoration panels with a silver-hairline finish. The 25S and 20S grades have well-crafted black, flat-woven fabric upholstery with a contemporary pattern of flowing lines. The 25C and 20C grades have the same black, flat-woven seats with matte-silver decorative panels.
2. Driving performance: A fine balance of comfort and driving pleasure which enhances the driver's sense of oneness with the car
The engine lineup provides powerful driving performance as well as excellent fuel efficiency. Options include the direct injection MZR 2.0L DISI* and the responsive MZR 2.5L gasoline engines. To further improve the Atenza's green credentials and affordability, both engines run on regular gasoline.
The five- and six-speed electronically-controlled automatic (Activematic) transmissions also feature Active Adaptive Shift (AAS). This allows the optimal gear to be selected depending on driving circumstances, enabling a linear and lively ride.
The 4WD model grades feature Mazda's Active Torque Control Coupling 4WD System, which uses electronic control to optimally distribute torque between the front and rear axles depending on driving conditions and the road surface.
Newly tuned power-steering assist characteristics and optimized suspension settings increase steering torque at highway speeds, giving more feedback and reassuring handling. In addition, by making the vehicle respond more gently to driver inputs, the vehicle's straight line stability is enhanced, so drivers can enjoy a more comfortable ride with greater confidence.
Finely tuned front and rear suspension and damping force settings realize a gentler, more comfortable ride. Even on coarse road surfaces, the ride is stable and smooth.
Under the body, the freshened Atenza features new plate-type deflectors in addition to the horseshoe shape front tire deflectors that have proved so effective on the current model. Larger rear tire deflectors contribute to the outstanding aerodynamics.
3. Environmental and safety performance: Refined ride quality, evolved environmental and safety performance
The Sedan and Sport Wagon models with the 2.0-liter engine qualify for Japan's eco-car tax reduction (50 percent) and incentive programs.
All model grades, including the 4WD grades for the first time, qualify as Super-Ultra-Low Emission Vehicles (SU-LEV) by achieving exhaust emissions at least 75 percent lower than Japan's 2005 standards.
All grades come with Mazda's single-nanocatalyst technology, which provides superb exhaust purification performance while reducing the amount of precious metals needed by over 70 percent.
A new eco-drive support function (eco-lamp) clearly indicates when the car is running in a fuel-efficient manner, thereby encouraging a more eco-friendly driving style in a fun way. (Fitted on all grades except the 25Z with six-speed manual transmission).
Mazda's adaptive front lighting system (AFS) with bi-xenon headlights is a newly adopted safety feature. The headlights automatically swivel to follow the road ahead and improve nighttime visibility (standard equipment on the 25EX and 25Z).
The FWD Sedan models have an upright seatbelt buckle in the rear center seat that is much easier to use.
Front Active Headrests are fitted as standard equipment to mitigate neck injuries in the event of a rear-end collision.
The updated Atenza grade with manual transmission features Mazda's Hill Launch Assist (HLA) for the first time. It supports smooth starts when the vehicle is on a slope by preventing it from rolling backwards.
During emergency braking at speeds above 50 kilometers per hour, the Emergency Signal System (ESS) rapidly flashes the hazard warning lights to alert following drivers. ESS is standard equipment on all model grades.
Parking sensors to aid safe driving in narrow spaces are standard equipment on the 25EX and 25Z.
At speeds over 60 kilometers per hour, the Rear Vehicle Monitoring (RVM) system detects vehicles approaching from behind and alerts the driver. (Available on the 25EX and FWD automatic 25Z grade as a factory-installed option.)
Mazda's Pre-crash Safety System detects oncoming obstacles, alerts the driver and, if necessary, automatically applies the brakes and pre-tensions the seatbelts to reduce the risk of injury. The Radar Cruise Control System uses a radar sensor to measure the speed and distance of the vehicle in front and automatically controls acceleration and deceleration to maintain a preset distance. Both systems are available as a factory-installed set option on the 25EX grade and the 25Z grade with automatic transmission.
4. Equipment and functionality: An improved human-machine interface enhances the sense of oneness between car and driver
To make the steering-wheel controls easier to use, the Cross Functional-Network (CF-Net) has been simplified so that there is only one switch or button for each function.
To minimize driver eye movement away from the road, the exterior temperature and information from the audio system, climate control and trip computer are displayed together on a central display at the top of the instrument panel. The numbering on the odometer/tripmeter has also been enlarged to improve legibility.
The 40GB HDD satellite navigation system with a 7-inch display now also includes a terrestrial digital television receiver. Four tuners and four antennas enable stable reception of 12 seg and 1 seg terrestrial digital broadcasts. It includes a Bluetooth® hands-free system that can be controlled by voice commands or switches embedded in the steering wheel. It is compatible with Mazda's G-BOOK Alpha system (available as factory-installed set option on all models).
A fully automatic climate control system with a pollen filter is equipped in all model grades. Temperature can be independently adjusted from the driver seat and front passenger seat.
A Bose® sound system with eight speakers was exclusively developed for the Atenza. It delivers clear and dynamic sound to all occupants in the cabin. It is equipped with Bose's original driving noise compensation system, AudioPilotTM. (Available for all grades except the 20C and 20S as a factory-installed set option.)
A push-button ignition system, where the driver can start and stop the engine without having to insert a key, is available with Mazda's advanced keyless entry system for all model grades except the 20C. (Standard equipment on the 25EX and 25Z. Available as a factory-installed set option on the 20S, 25C and 25S.)
Manufacturer's suggested retail prices
Body type
Grade
Drive
Engine
Transmission
Price (yen)
Tax
reduction
With tax
Without tax
Sedan
20C
FWD
MZR 2.0L
DISI
5EC-AT
2,100,000
2,000,000
50%
20S
2,200,000
2,095,239
50%
25EX
FWD
MZR 2.5L
5EC-AT
2,500,000*
2,380,953
-
25C
4WD
6EC-AT
2,410,000
2,295,239
-
Sport
25S
FWD
MZR 2.5L
5EC-AT
2,450,000
2,333,334
-
25Z
FWD
6MT
2,750,000
2,619,048
-
5EC-AT
2,750,000*
2,619,048
-
25S
4WD
6EC-AT
2,660,000
2,533,334
-
Sport
Wagon
20C
FWD
MZR 2.0L
DISI
5EC-AT
2,250,000
2,142,858
50%
20S
5EC-AT
2,350,000
2,238,096
50%
25S
FWD
MZR 2.5L
5EC-AT
2,500,000
2,380,953
-
25EX
5EC-AT
2,750,000*
2,619,048
-
25S
4WD
6EC-AT
2,730,000
2,600,000
-