Mazda Premacy
Mazda Motor Corporation today announced drivetrain and sporty styling upgrades to the Premacy model range in Japan. The new models for Mazda's popular compact minivan are available nationwide from today at all Mazda, Mazda Anfini and Mazda Autozam dealers. Mazda Premacy is known as the Mazda5 in overseas markets.
Mazda Premacy 20Z
(FWD model with 2.0L DISI reciprocating gasoline engine and five-speed automatic transmission)
New additions to the Premacy lineup include models equipped with a 2.0-liter version of Mazda's Direct Injection Spark Ignition (DISI) reciprocating gasoline engine and a five-speed automatic transmission (AT). With improved power and torque compared to the Premacy's existing 2.0-liter engine, the DISI engine achieves fuel economy among the best in its class (its 10-15 mode fuel economy rating is 15.0km/L) and enhanced performance. To boost the sporty appeal of the range, the all-new 20Z grade comes with special equipment including 17-inch gunmetal gray-colored aluminum alloy wheels and a paddle shifter mounted on the steering wheel. Additionally, two body colors have been added to further emphasize the quality feel of the vehicle and help the Premacy stand out: the deep purple Dark Plum Mica - used for the first time on a Mazda vehicle - and the highly popular Galaxy Gray Mica.
Manufacturer's suggested retail prices for the Premacy vary between 1,743,000 - 2,310,000 yen (including consumption tax). Also available from today is Mazda's special Premacy Lift-up Passenger Seat model, which is designed to assist people with special needs.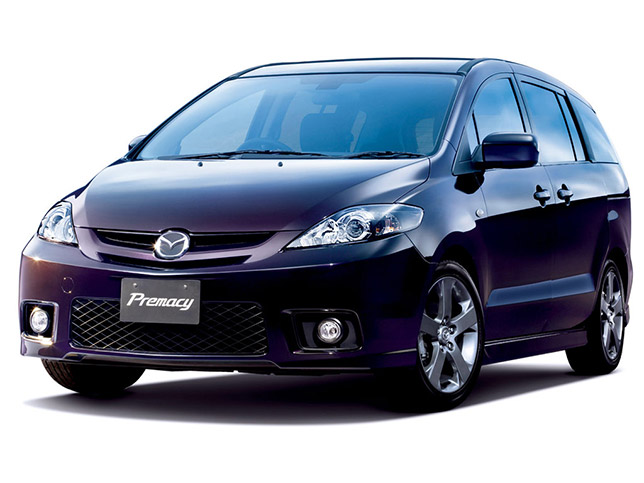 Main features of the enhanced Premacy range Increased dynamic performance: DISI engine and five-speed AT - Mazda has added a new MZR 2.0L gasoline DISI engine version Premacy to all grades except 23S. The DISI engine has excellent fuel efficiency and develops high torque levels at standard revs. The engine also aims to satisfy future environmental requirements while providing plenty of Zoom-Zoom. - Coupled with the DISI engine, a five-speed automatic transmission has been added, contributing to improved fuel economy and better acceleration. - The 20Z, 20S, 20CS and 20F (FWD) grades equipped with the DISI engine and 5-speed AT all achieve a four-star rating for exhaust emissions that are 75 percent or lower than the levels required by the Japanese government's 2005 exhaust emission regulations. They also meet 2010 fuel economy standards plus 10 percent, making them eligible for Japan's Green Tax exemptions.
MZR 2.0L DISI reciprocating engine specifications Model LF-VD Type Water-cooled in-line four cylinder DOHC 16-valve Displacement 1,998cc Bore and stroke 87.5mm x 83.1mm Maximum output 111kW (151PS)/6,200rpm Maximum torque 193Nm(19.7kg-m)/4,000rpm Fuel delivery method Direct injection (DI) Fuel type / tank capacity Regular unleaded / 60 liters
The sportier 20Z is added to the lineup
Base model: Premacy 20S (2.0-liter DOHC engine with four-speed AT and 15-inch alloy wheels) Powertrain: MZR 2.0L DISI reciprocating gasoline engine with five-speed AT
Exclusive equipment:
- 17-inch gunmetal gray-colored aluminum alloy wheels - Headlight bezels and combination rear light bezels (black) - Front fog lights - Steering wheel mounted paddle shifter - Leather-wrapped steering wheel and shift knob
Other changes
Body colors:
Two new colors, Dark Plum Mica and Galaxy Gray Mica, have been added to highlight the styling. There are now a total of 11 colors for customers to choose from.
Interior:
- Passenger seat (center-side) and second row seat (door-side) armrests are standard equipment on all grades except 20F. - The 23S Leather Package is a new factory-installed option available exclusively for the 23S grade. It elevates the vehicle's quality feel with double-stitched, deep-red leather upholstery on all seats and includes dual power sliding doors.