Mazda CX-60 diesel | UK specification and pricing announced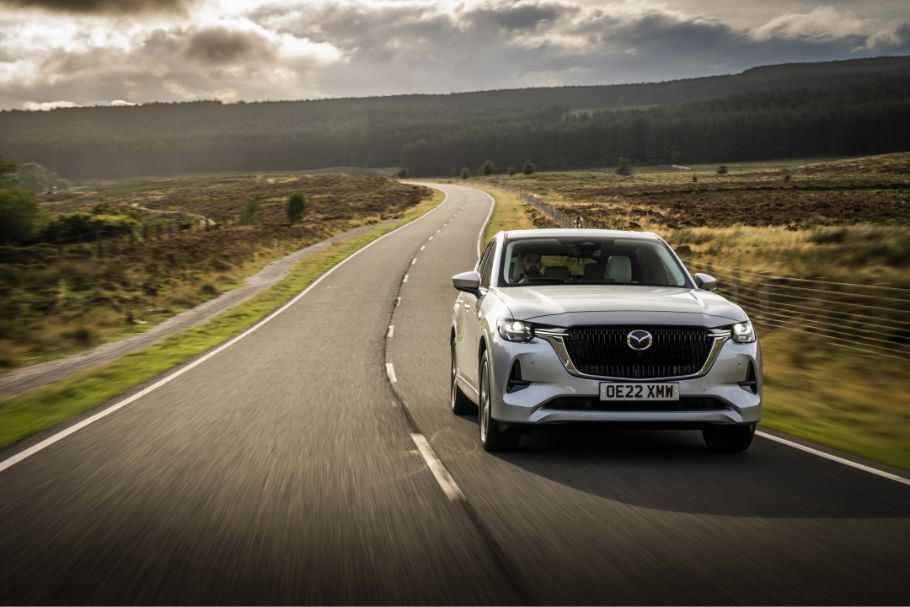 Arriving in the UK early next year the all-new Mazda CX-60 e-Skyactiv D MHEV is available to order now. Powered by a powerful, clean and efficient all-new e-Skyactiv D diesel engine, the new model will be offered in the same Exclusive-Line, Homura and Takumi grades as the recently launched PHEV version.
The new diesel powertrain that will make its debut in the CX-60 is a Mazda first – a 3.3-litre in-line six-cylinder e-Skyactiv D diesel engine that features Distribution-Controlled Partially Premixed Compression Ignition (DCPCI) Technology. This highly innovative advanced combustion technology makes the new e-Skyactiv D unit one of the cleanest diesel engines in the world, achieving a thermal efficiency of over 40%.
Developed using the 'right sizing' concept which optimises displacement to improve both fuel and power efficiency, the all-new 3,283cc longitudinally installed common rail electric direct injection six-cylinder e-Skyactiv D unit will be offered with a choice of two power outputs: 200ps with rear-wheel drive and 254ps with Mazda i-Activ AWD (all-wheel drive). Featuring a new 48v Mazda M Hybrid Boost system, the all-new diesel engine combines high output with excellent fuel economy. The new DCPCI technology improves engine efficiency, emissions and fuel economy. The combination of DCPCI and Mazda M Hybrid technologies contribute significantly to the CX-60's outstanding driving range, performance, frugal fuel consumption and low emissions.
With an entry price of £42,990, the 200ps output engine is singularly offered in Exclusive-Line trim where it is matched to rear-wheel drive, additionally Exclusive-Line can also be specified with the higher-output 254ps version of the new engine for £45,630 and here features all-wheel drive. All Exclusive-Line CX-60s can be specified with the £1,400 Comfort Pack and £1,900 Convenience and Driver Assistance Pack ensuring there's plenty of opportunity to tailor your CX-60.  The £48,380 Homura is offered exclusively with the 254ps AWD drivetrain, as is the range-topping £50,730 Takumi grade – these cars can be specified with the optional Convenience and Driver Assistance Pack, while a Panoramic Roof is optional on Homura and standard on Takumi.
As you'd expect from a Mazda, the new e-Skyactiv D powered CX-60 delivers an impressive blend of performance and efficiency, alongside the driver focused handling, impressive comfort and high-quality found across the CX-60 range.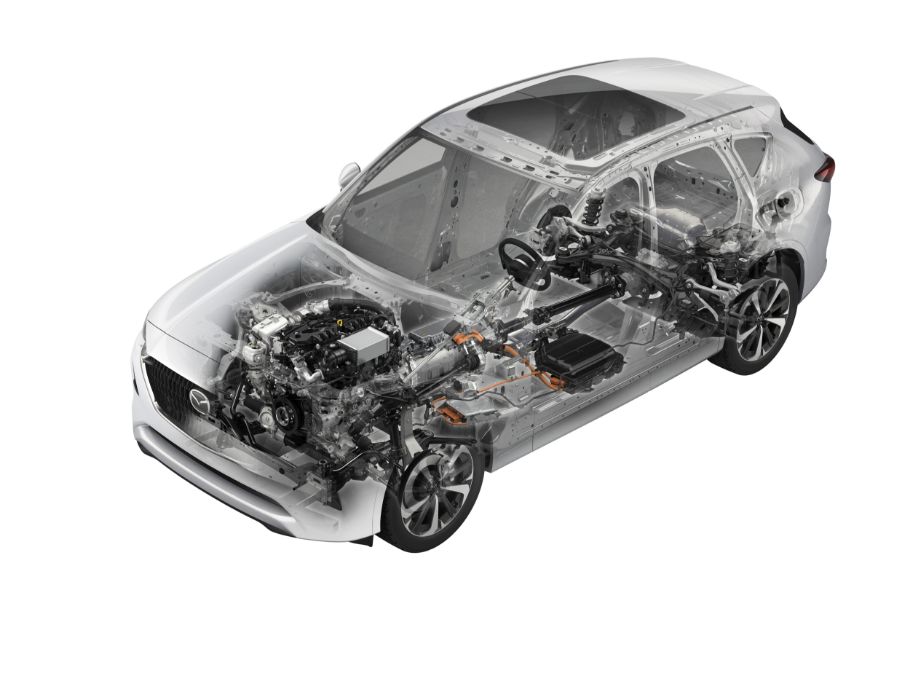 The 200ps engine returns a WLTP average fuel consumption of 56.5mpg with CO2 emissions of only 129g/km in rear-wheel drive Exclusive-Line guise, while the AWD 254ps Exclusive Line, Homura and Takumi WLTP average fuel consumption is 53.3mpg with CO2 emissions from 137g/km.
Refinement was also a key development goal of the all-new Mazda CX-60 e-Skyactiv D diesel and the in-line six-cylinder configuration produces less vibration due to its characteristic 'perfect balance', for a smooth and quiet engine tone, whilst delivering a clean and engaging sound. The engine's high torque delivery gives the CX-60 a 2,500kg trailer weight towing capacity, while as a result of its lightweight construction, the engine weighs similar to the 2.2-litre Mazda Skyactiv D four-cylinder diesel engine used in the Mazda CX-5, which helps handling balance.
Commenting on the forthcoming Mazda CX-60 e-Skyactiv D, Mazda Motors UK, Managing Director, Jeremy Thomson, said: "another demonstration of Mazda's 'Multi-Solution Approach', the new diesel is designed to meet the needs of customers who want an efficient, long distance driving car with great towing capacity. The company's multi-solution strategy offers different products and technologies – including more efficient internal combustion engines and a wide range of electrified powertrains, that best suit the local market and society's demand for sustainability"
Adding, "while the PHEV will be the biggest selling CX-60 in the UK, the new six-cylinder diesel is a fantastic example of Mazda's long-standing reputation for engine innovation and it will be a superb choice for many retail customers looking for a high-quality large premium SUV with a clean and efficient diesel engine".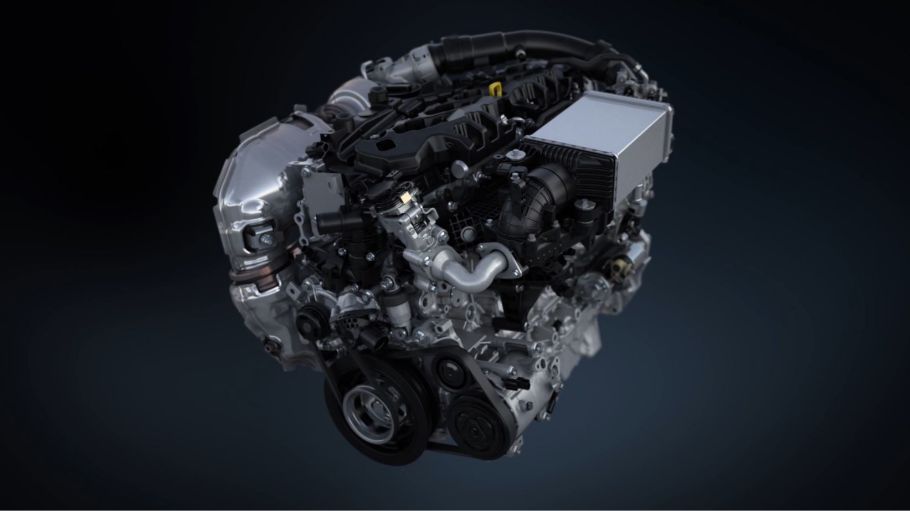 Additionally, an in-line straight-six 3.0-litre e-Skyactiv petrol engine will join the e-Skyactiv D and e-Skyactiv PHEV to complete the Mazda CX-60 powerplant line-up at a later date - offering customers the wide choice of technologically advanced, highly efficient powertrains appropriate to the outstanding levels of craftsmanship and on-board technology offered by the CX-60 model range.
With the launch of the CX-60, Mazda takes another important step in its fleet's emission reduction on its way to become entirely carbon neutral by 2050. In all, Mazda is launching five new electrified products in the next three years that feature its multi-solution platform architecture. After 2025, the company will launch its brand new Skyactiv EV Scalable Architecture, which will allow Mazda to efficiently build electric cars of all sizes using one common platform.
In 2023, the company will launch a new model, the Mazda CX-80, which is larger than the Mazda CX-60 and features three rows of seating. With the Mazda CX-60 PHEV in dealerships now with strong current availability, the all-new Mazda CX-60 diesel will arrive in the UK in the first quarter of 2023.