Mazda CX-5 with Smart City Brake Support
Mazda has announced their latest technology named Smart City Brake Support (SCBS). It practically helps a driver to avoid frontal collisions during city driving at low speeds. The all-new 2012 Mazda CX-5 compact crossover will be equipped with SCBS. The safety system uses a laser sensor to detect a vehicle or obstacle in front of the Mazda CX-5. If the driver fails to slow the vehicle appropriately, or to take avoiding action, SCBS automatically activates the brakes and reduces the engine output at the same time. In such way, the SCBS helps to avoid collisions rom rear-end collisions at low speeds, which are among the most common accidents in the city.
Actually, the system works at low speeds between 4 km/h (2.5 mph) and 30.5 km/h (19 mph). As we mentioned a laser sensor, which is mounted at the top of the windscreen detects a vehicle or obstacle in front of the car. It also monitors the gap between the two vehicles and the closing speed. If the SCBS calculates that there is a risk of a collision occurring and the driver were to take no action, the safety system pre-pressures the braking system. This ensures a faster response when the driver activates the brakes. Still, if there is no action from the driver, an automatic braking operation is activated. Remember, it is only effective within speeds from 4 km/h to 30.5 km/h.
Mazda Motor Corporation is working hard on its safety technologies. The manufacturer is aiming for the ultimate goal of realising an accident-free and safe motorised society. Mazda intends to extend its advanced safety technologies, such as SCBS, to future new models, following its debut on Mazda CX-5, to contribute to provide all customers with driving pleasure together with outstanding environmental and safety performance.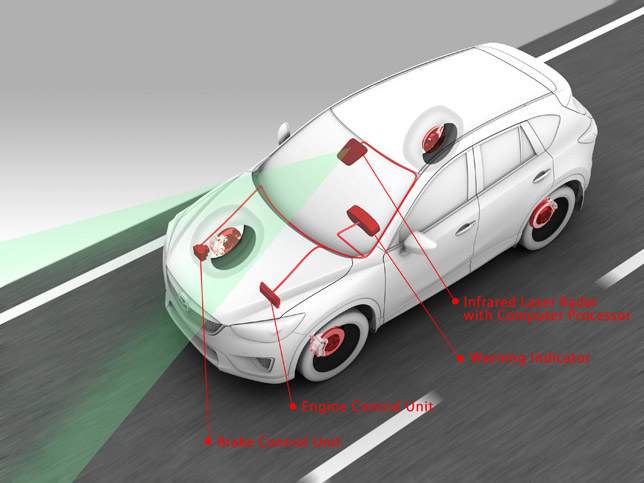 Source: Mazda