Lotus Exige GT3 Concept Road Vehicle
The Most Extreme Exige Variant To-date - Geneva, Switzerland (6th March 2007), Lotus Sport, the race car performance arm of Lotus Cars Ltd, today unveiled the Lotus Exige GT3 concept road vehicle. With its debut at the 77th annual Geneva International Motor Show, the 275 PS (271 bhp / 203 kW) Exige GT3 is a bold, no-holds-barred, lap record-breaking, breathtaking performance machine that embraces all that is expected of a race-bred Lotus.
Building on the Lotus racing pedigree, this concept car can deliver more grin-factor than ever before; there are no intended compromises and no limits except those that are self imposed by the driver.
This is one concept that commands your full attention. Said Mike Kimberley, Chief Executive Officer for Group Lotus plc: " The Exige GT3 concept road car is a fantastic showcase product from our race car performance division, Lotus Sport. The car's racing background becomes immediately obvious from its aggressive stance, extreme width of rear track and innovative three-dimensional rear wing. The foundation of all Lotus products is phenomenal handling and ride characteristics, but the Exige GT3 takes these into another dimension altogether where supreme road holding and outrageous acceleration come evenly matched with sensational stopping ability."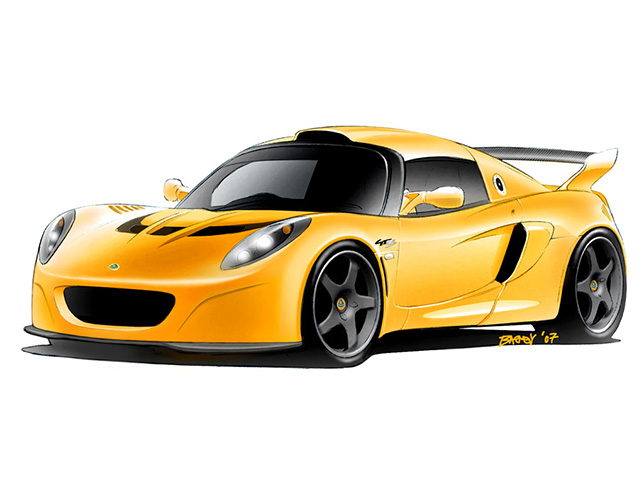 The Exige GT3's pure bred racing brother will be again competing in the GT race arena in 2007, taking over the mantle from the hugely successful 2006 British GT3 Championship-winning car. On road or track the Lotus Exige GT3 winning pedigree will continue in time honoured Lotus racing tradition.
A new one-piece front clam-shell with fully masked front wheels and wheel arch venting leads the aerodynamically cleaned silhouette of this car.
A menacing stance is enhanced by the aggressively flared rear wheel arches and aero-efficient three-dimensional rear wing and blended end-plates. The visual message is clear; this vehicle means business and the squat wide hindquarters symbolise the latent power harnessed within.
That power is provided by the same charge-cooled supercharged engine that the GT3 race car employs, producing 275PS (271bhp / 203kw) driven through ten inch rear wheels with 255 width tyres making the final connection to the road. Max speed (257kph / 160mph) and peak torque have been electronically limited but acceleration is left untouched and unimpaired. The up-rated front brakes and brake pads all round ensure that on road or track this car's stopping ability is more than capable of harnessing its acceleration performance.
The end-plate mounted three-dimensional rear wing is highly efficient and fully complements the widened and flattened rear deck shape in reducing the overall drag as well as maintaining front to rear downforce balance. The performance of this car will amaze and reward all drivers with incredible road holding (developed with the help of its 2-way Ohlins adjustable dampers together with Lotus Sport adjustable front stabiliser bar and rear suspension double-shear track control arms) and stunning acceleration.
Simply put, the Lotus Exige GT3 will redefine your concept of a road car by re-affirming that unique proposition that is, above all else, a Lotus.
It is intended that the Lotus Exige GT3 concept road vehicle will be further developed into a full production car for limited markets, to go on sale in late 2007 with an estimated price tag of between £50,000 and £60,000.
Engine
The supercharged and intercooled 1796 cc engine in the Lotus GT3 has a maximum power output of 275 PS (271 bhp / 203 kw) at 8000 rpm and a torque figure of approximately 258 Nm (190 lb/ft) at 7000 rpm. This significant amount of extra power and torque now available together with the VVTL-i variable cam system ensures that there is a smooth and linear surge of power from low engine speeds all the way to the maximum 8000 rpm. The Roots-type Eaton M62 supercharger (with a sealed-for-life internal mechanism meaning that it does not require the use of the engine's oil) is run from the crankshaft and has an integral bypass valve for part load operation. Four high capacity injectors and an up rated fuel pump add additional fuel under hard acceleration or high speed driving.
An Accusump (engine oil accumulator unit) is included in the whole package as an oil reservoir back-up for extreme track use ensuring that, under those conditions, the engine oil pressure remains constant. Twin oil coolers complete the powertrain package.
Transmission
A sports-type clutch plate and heavy duty clutch cover transfer the engine power and torque to the lightweight aluminium C64 six-speed gearbox - with the same perfectly spaced ratios as the Exige S. An open type limited slip differential is fitted as standard. The Lotus switchable traction control system (LTCS) works through the engine, reducing power to maintain traction; it is active above 8 kph (5 mph) and reacts much more quickly than many brake-based systems.
Chassis Structure
Lotus designed lightweight structure of epoxy bonded aluminium alloy extrusions with crash structure, extruded aluminium door beams, integral steel seat-belt support structure and lightweight galvanized steel rear sub frame incorporating a structural shear panel.
Body
GT3 derived one-piece front clamshell and wide track rear clamshell with full length roof scoop design taken from the Cup Exige 255. New full width rear wing with integral end plates mounting to rear clam. Race style full width front splitter; standard Exige door and body sides retained. Multi element rear diffuser with carbon option.
Wheels & Tyres
5-spoke lightweight forged alloy wheels (front 7Jx16 and rear 10Jx17) are shod with Lotus Sport specific Yokohama A048 R LTS tyres (front 195/50 R16 and rear 255/40 R17), designed to maximise grip and achieve the ride and handling targets set by Lotus.
Brakes
The brake system includes 308 mm diameter 2 piece aluminium belled cross drilled and ventilated front discs and 288 mm diameter cross-drilled and ventilated rear discs. AP Racing two-piece radially mounted 4 piston calipers at the front and Brembo single sliding piston at the rear. Pagid
RS14 sports brake pads all round. High grade silicone brake fluid; stainless steel braided brake hoses. In addition, the proven Lotus track tuned servo-assisted four-channel ABS system enhances braking performance and minimises stopping distance without taking over from the skill of the driver.
Suspension
Fully independent suspension utilising unequal length wishbones; Öhlins 2-way adjustable dampers with coil over springs and Lotus Sport adjustable front anti-roll bar. A rear double shear track control arm brace is provided to cope with the expected kerb abuse during heavy track day driving.