LARTE Design rocked Vegas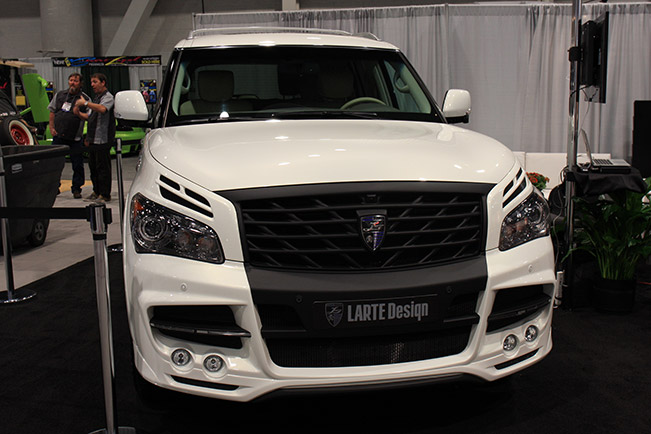 This year at SEMA Show in Las Vegas it seemed like many of the exhibitors focused on too many sparkling and dazzling models in order to capture the attention of the people who attended. Nevertheless, what stood out as different and more attractive was the tuner LARTE Design which once again managed to convince the American audience that among the top virtues of automobile products is, on the one hand, quality and on the other workmanship. In the beginning of November, the tuning company revealed its new body kit for the iconic Infiniti QX80, titled LR-3. The impressive outfit definitely succeeded in depicting that excellence is possible to be achieved.
The kit's official mark is conveyed by the distinguishable and aggressive front and rear aprons. Their design is defined by different air inlets and spoiler features. In addition to this, the matte-black V-shaped front guard and Infiniti QX80 both depict a sort of genuine and balanced aggressiveness and roughness. Moreover, other improvements and outlines are the additional LED daytime running lights and fog lights. The rear is highlighted by four black-chrome-plated tail pipes, specifically designed by Remus, the renowned manufacturer from Austria. Something that complements the snow-white paint is the pale leather interior. The improved by LARTE floor mats and the trunk floor are made of teak.
Outside the SEMA center, LARTE Design also showed another black Infiniti QX80, tuned Infiniti QX70 as well as Infiniti QX60. Los Angeles is going to be the next destination in North America. Los Angeles Auto Show is going to take place from November 21 to November 30.
Source: LARTE Design