Larte Design Mercedes-Benz GL Black Crystal Is Big, Bold And Beautiful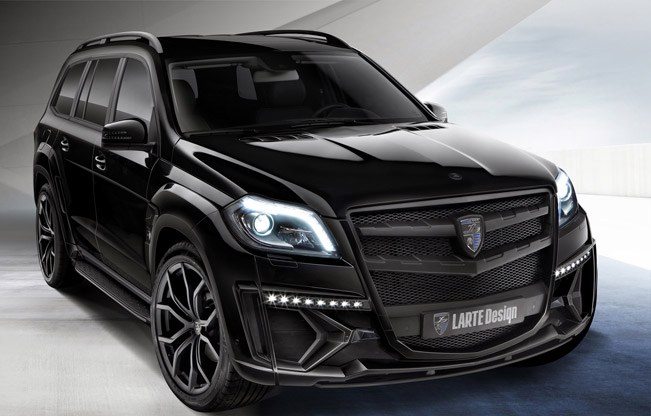 Larte Design Mercedes-Benz GL Black Crystal is the latest project of the German based tuners. They have turned this GL into a big, bold and beautiful "Black Crystal". The restyled full-size SUV, got an aggressive body kit, attractive alloy wheels and a sonorous exhaust system. More importantly, the specialists at Larte Design did an engine upgrade, thus giving the GL more power, that will perfectly complement its new appearance.
The completely re-designed front bumper has a "crystalline" ornamentation next to its aggressive geometry: the blazon-shaped front guard stretches over the entire height of the car. Two huge crystals, prongs, edges, boomerang-shaped elements, exposed carbon inserts and a number of air inlets add to its broad stance
Take a look at the striking LED daytime running lights. They were not only designed to add safety but also to light up the "Black Crystal" in a very tasteful manner. Big front and rear fender spacers, side skirts and rear door beads underscore car's width and let the silhouette appear flatter and more dynamic.
Furthermore, Larte Design rear apron features details like exposed carbon inserts, a central formula-1-type brake light and a special Remus four-pipe stainless steel exhaust system. This Mercedes runs on forged, dark XXL 11 x 22'' alloy wheels with angular double spokes.
At last, but not least, the tuners have improved the diesel engine of the SUV. For this purpose, they have worked closely with the team at Wetterauer. The result is that the V6 diesel unit now pumps out 290 hp (213 kW) and a top torque of 690 Nm (510 lb-ft). To make a comparison – the production version of the powerplantt delivers 258 hp (190 kW) and 620 Nm (458 lb-ft).
Source: Larte Design