Lamborghini Aventador LP 700-4 Roadster at Miami Airport Runway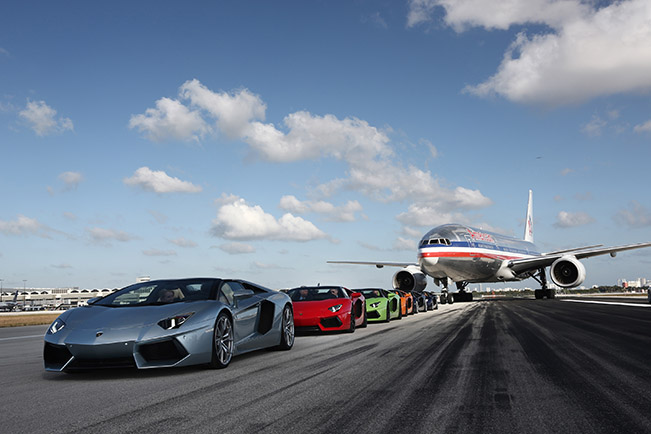 Five brand new Lamborghini Aventador LP 700-4 Roadsters have been brought to the busiest US airport for international flights.
The take-off speed of a passenger airliner is around 150mph to 180 mph (240 km/h to 290 km/h). No current jet aircraft reaches 338 km/h (210 mph) on the ground, which was the clocked speed of the Aventador Roadster during the closed-course drive demonstration.
The Lamborghinis were joined by an American Airlines Boeing 777 and lined-up for a photo shoot on the runway. Due to integrated planning on behalf of Miami-Dade officials and the FAA, there was no impact on flight arrivals and departures. LP700-4 is powered by a 6.5 liter V12 with 700HP (515 kW) and 690Nm (509 lb-ft). The engine is coupled to a 7-speed ISR gearbox specially supplied by Graziano Trasmissioni Group. The shift time is just 50 milliseconds. The power is put on the road through a Haldex AWD system. 0-100 km/h in 2.9 seconds and a top speed of 350 km/h (217 mph).
The price for each Aventador LP 700-4 Roadster is €300,000.
Source: Lamborghini