Kicherer Mercedes-Benz SLS 63 AMG Supercharged GT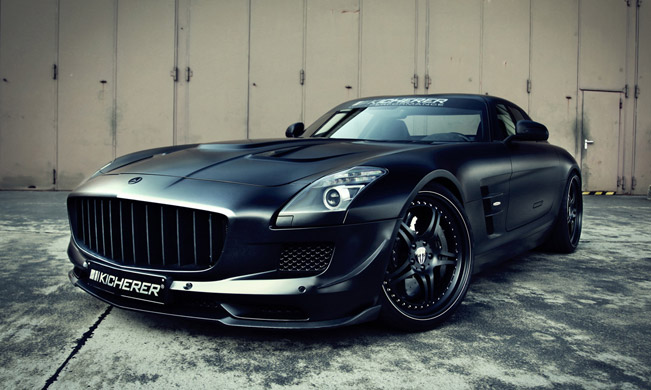 Kicherer Mercedes-Benz SLS 63 AMG Supercharged GT is a flashy, striking and technically well-thought-out vehicle. Maintaining their high standards, Kicherer has utilized in this project a lot of carbon-fibre. In fact we can see it all over the interior as well as exterior.
To be more precise the exterior package for the SLS consists of a hand-crafted front grille unit with large, vertical fins. This gives the Mercedes' front look highly aggressive. On top of that, there is a carbon front lip spoiler, a very discreet rear diffusor and carbon fins for the front fenders and the engine bonnet.
In addition the satin-matte black film covering the complete bodywork further accentuates the lines of the SLS. But what is more important here is that the specialist have designed and produced their own supercharger system, making it world's first enhanced performance on a SLS.
The newly-developed supercharger system requires that only very few original parts need to be changed out. For instance the upper engine air intake is retained and no additional deflection. The guide pulleys are required for the belt drive in that way preventing annoying background noise and interference.
Furthermore, the supercharging pressure from one of the four outlet nozzles is displayed to the driver in digital or analogue from on the tachometer. A special app has been developed to provide additional telemetry data.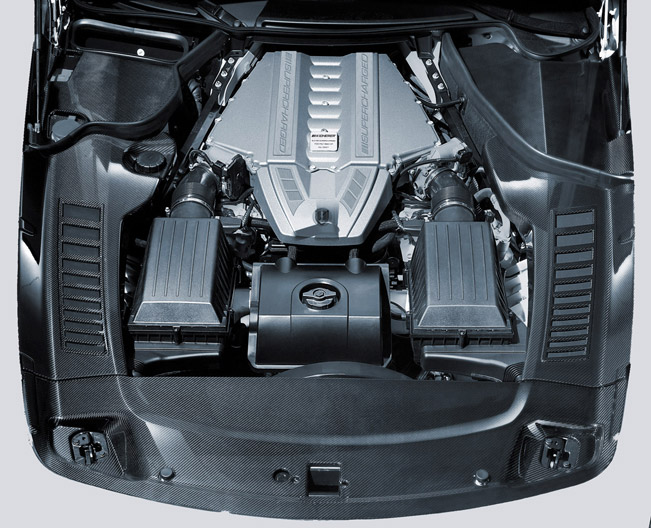 Speaking in numbers the SLS 63 AMG performance is increased to about 700 hp (515 kW) and maximum torque increases to around 840 Nm (620 lb-ft). This means that the acceleration time from 0 to 100 km/h is just 3.4 seconds, and, thanks to the removal of the electronic Vmax (maximum speed) blocker, it can reach a top speed of well over 300 km/h.
Exteriorwise the superchaged car is equipped with tuner's in-house RS-1 light-weight forged wheels, which are hand-crafted, exclusive and flashy. They come in size 10.0J x 20 inch for the front and 11.5J x 21 inch for the back.
The tyres choice here is Michelin Pilot Super Sport which gives the vehicle perfect adhesion to the road. Moreover, special high-tech coilovers give superb grip and are equipped with lift function which allows the chassis to be raised and lowered by approximately 30 mm with the press of a button.
Source: Kicherer