Kia Sells Its Soul
Soul. It's something that even dictionaries find hard to describe, but anyone who's 'got soul' knows what it means. Likewise, the new Kia Soul – the latest small car from one of the world's most energetic and vibrant car companies – is hard to categorise, for it fits into none of the motor industry's neat pigeon holes. But one look at it and anyone who's 'got soul' will understand. Soul has got soul and it hits Kia showrooms from March 1.
Emotional. Iconic. Self-confident. Bold. Lifestyle-driven. Simple words which, added together, start to capture the car's personality. Soul is a car all about freedom – freedom to stand out from the crowd through its unique design and personalisation options, freedom of the open road thanks to its fun-to-drive character, and freedom of lifestyle through an expressive interior and a seating arrangement which offers the flexibility of a medium-sized MPV or SUV within the footprint of a supermini.
Soul is an urban crossover – small enough to be ideally suited to the world's urban jungles, but totally different to conventional, workaday small cars. By combining the charm and desirability of MINI and Fiat 500, with a hint of SUV ruggedness, Kia is opening up an entirely new market sub-segment with a car that will win the hearts – and souls – of the young and the young-at-heart.
Like conventional superminis, Soul has five doors, five seats and front-wheel drive; is just over four metres long and is a hatchback.  But even within those parameters, Soul is a car that defies conventions.
The origins of Soul It remains faithful to the concept car revealed at the North American International Auto Show in Detroit at the start of 2006.  That concept was the inspiration of Kia's North American design studios in California, led by Tom Kearns. Eight months later, when Peter Schreyer became Chief Design Officer at Kia, he was immediately full of enthusiasm for Soul and has personally overseen the project through to the final production stage.  Peter was intimately involved with the Soul concept 'trio' of Burner, Searcher and Diva, which appeared at the Geneva Motor Show in March 2008. Design teams in America, Europe and Korea have collaborated to bring it to fruition.
'Detroit 2006 marked a special point in time for Kia Motors,' Schreyer said when he unveiled the production car at the 2008 Paris Motor Show. 'Very few people, even those inside Kia, realised what a big moment it was when the Soul concept first appeared.  It looked like a flight of fancy…until now.
'For our customers, it's a lifestyle statement,' he adds. 'It creates a strong emotional link between them and us. It will be our first car where customers will check the colours and accessories before they check the price.  It is our accelerator for an image shift towards design.'
Soul's style is 'tough not rough'. It has a high bonnet with rounded forms, bulging wheel arches and a wide track. The wheel arches are joined by a body side crease, while the roofline appears to slope gently down to the tailgate. The beltline, which rises from the front wheel arch to create a gentle wedge shape, is continued under and around the third side window. A decorative air vent in each front wing incorporates sleek side repeaters and abutts the beltline to intensify an image of quality.
The rear is dominated by vertical combination lamps set into a body colour panel and featuring clear outer lenses. One of the early 'concept' sketches which helped to define what Soul was all about featured a wild boar. With its strong, wide shoulders, a determined look in its eyes and distinctive sloping back, this animal has one extra, and unusual, attribute – a practical backpack.
The rectangular tailgate reflects that backpack 'profile', a design element which has remained since those early inspirational designs which included the 'wild boar' – it underlines practicality and reflects the urban nature of Soul. It was best seen on the Soul concept car at Detroit where the tailgate opened a number of different ways providing flexibility of use.
On the rear, the Kia badge doubles as the tailgate handle to add a touch of fun. The body side and wheel arch crease line extends around to the bumpers, which are broken by rugged SUV-style panels, in a contrasting colour to the rest of the bodywork.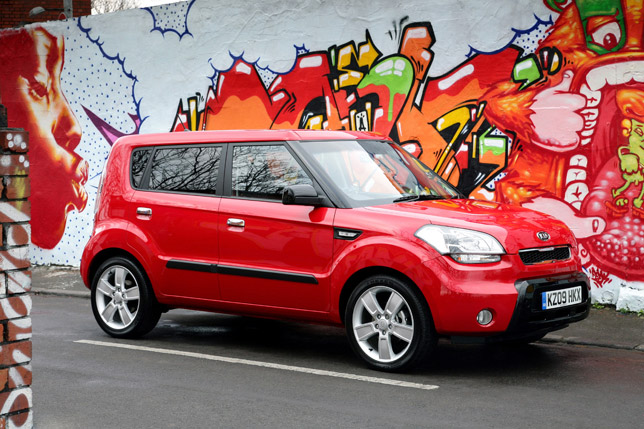 Soul sensations Kia plans a simple, three-tier Soul line-up in the UK with a rolling programme of special models that will be refreshed every 12 months or so. These models, called the 'Soul Originals', draw inspiration from the European-designed Burner, Diva and Searcher concepts to reflect the individuality of Soul. In a similar way, unique 'Originals' will exist for a short period to be replaced by another - fashion houses change looks, fabrics and colours, Kia will do the same with Soul.
The two traditional models in the UK are badged Soul 1 and Soul 2, while the first 'Originals' are named Samba, Shaker and Burner. Prices start at less than £10,500.
An array of customisation and personalisation options will be available on top of the generous specification. The aim is to ensure that every Soul can be as individual as the person buying it.
The individual options available vary from interior and exterior styling items – including decals and matching carpet mats – to bicycle racks and additional luggage storage features, and audio and security upgrades. For added value, however, Kia has put together a series of option packs which will allow personalisation at extremely affordable prices.
The heart and soul of Soul Soul is based on an all-new platform that will be used in modified form in other future Kia models. It is powered by Kia's refined and ultra-reliable 124 bhp 1.6-litre petrol and 126 bhp turbodiesel engines (depending on model). Both deliver the kind of outstanding torque levels vital to modern UK motoring, with excellent power for motorway use, and superb fuel economy.  Every model comfortably betters 50 mpg and the diesel averages more than 60 mpg with the standard five-speed manual gearbox.  It is also available with the convenience of a four-speed automatic.
Soul has a long wheelbase and wide track with inherent benefits for stable handling and a comfortable ride. The suspension of right-hand-drive models has been fine-tuned in the UK in conjunction with Lotus to give responsive handling with a supple ride.  Soul is the first Kia to have been specifically developed with UK roads and drivers in mind.  The new Kia has the same motor-driven electronic power-assisted steering as the Kia cee'd and returns 3 per cent in fuel savings over a conventional engine-driven hydraulic rack-and-pinion system. Power assistance is provided only when needed, reducing power draw on the engine. Soul comes as standard with electronic stability programme (ESP) and anti-lock brakes (ABS) and electronic brake force distribution (EBD).  ESP intervenes to prevent skids by braking one or more wheels, reducing engine power or both if sensors detect the car may be in danger of a skid or spin.  EBD, meanwhile, automatically ensures that the most efficient stopping power is directed to the four wheels in such a way as to ensure the car is brought to a halt in the shortest possible distance.
The first thing drivers will notice, particularly those downsizing from an SUV or MPV, is the command-post driving position they have become used to.  The cockpit is compact and sporty, with a thick-rimmed four-spoke steering wheel and a three-dial instrument cluster beneath a tightly-curved cowling.  Yet it is anything but a self-indulgent car. The unusually high roofline, which has its highest point just above the windscreen, and generous wheelbase may lend Soul a bit of SUV attitude, but they also give the interior cavernous space.
The facia is dominated by a centre stack that appears to float beside the driver, similar to that on Kia's award-winning cee'd family of cars.  In Soul, it is laid back over the dash and houses the audio system, air conditioning controls, a storage area and, in some models, a large centre speaker.
In keeping with Soul's rebellious, individual and urban character, Kia has ensured that every model has a high-end audio system capable of being linked to digital music players or other portable music devices. Further up the range, the hi-fi features something called PowerBass – psychoacoustic technology that overcomes the inherent difficulties of delivering good sound in a challenging environment such as a car to deliver a clear and wholesome sound.
A six-speaker RDS radio with CD player, MP3 compatibility and USB and AUX ports are standard. Soul 2 adds steering wheel-mounted remote audio controls and an iPod link cable.  The Soul 'Originals' of Samba and Burner also have an upgraded 315-watt sound system which comes complete with a dash-top mounted centre speaker, external power amplifier, a boot-mounted sub-woofer and controllable mood lighting within the front door speakers. This is certainly not your average sound system for a car in this class.
The rest of the specification is equally generous with air conditioning, all-round electric windows, remote central locking and six airbags fitted to every model. To top it off, buyers also get a five-year unlimited-mileage warranty.
Full on-the-road list for the Kia Soul:
| | | | | | | |
| --- | --- | --- | --- | --- | --- | --- |
| Power train | Trim | Power - bhp | Torque – lb/ft | CO2 | mpg* | Price |
| 1.6-litre | 1 | 124 @ 6300 rpm | 115 @ 4200 rpm | 153 | 43.5 | £10,495 |
| 1.6-litre | 2 | 124 @ 6300 rpm | 115 @ 4200 rpm | 153 | 43.5 | £11,495 |
| 1.6-litre CRDi | 2 | 126 @ 4000 rpm | 192 @ 1900-2750 rpm | 137 | 47.9 | £12,495 |
| 1.6-litre CRDi auto | 2 | 126 @ 4000 rpm | 192 @ 1900-2750 rpm | 155 | 47.9 | £13,495 |
| 1.6-litre | Samba | 124 @ 6300 rpm | 115 @ 4200 rpm | 153 | 43.5 | £12,495 |
| 1.6-litre CRDi | Samba | 126 @ 4000 rpm | 192 @ 1900-2750 rpm | 137 | 47.9 | £13,495 |
| 1.6-litre | Shaker | 124 @ 6300 rpm | 115 @ 4200 rpm | 153 | 43.5 | £12,495 |
| 1.6-litre CRDi | Shaker | 126 @ 4000 rpm | 192 @ 1900-2750 rpm | 137 | 47.9 | £13,495 |
| 1.6-litre CRDi | Burner | 126 @ 4000 rpm | 192 @ 1900-2750 rpm | 137 | 47.9 | £14,995 |