2012 Kahn Jeep Wrangler
The project named Kahn Jeep expands even further the renowned Wrangler. It embodies Afzal Kahn's philosophy which is always to integrate together mechanical perfection and exterior beauty.
Now as a result of this philosophy, the British tuner is offering an outstanding Kahn Jeep. What was basically done on this Wrangler is to be completely transformed.
And with the exquisite abilities of Kahn we can expect nothing else but an excellent end product. The full conversion consists of restyled shape and thus unique new look.
It is equipped with the special Kahn RS wheels, along with bespoke perforated and quilted leather interiors.
What is featured here in this 2012 Kahn Jeep Wrangler is a meshed front grill, gold finished calipers, quad exhaust system, rear wheel cover, smoked side lights and repeaters, petrol flat cap in billet mat black, mud flaps hardwearing, aluminum machined foot pedals, smoked side lights and repeaters, sat-navigation, reverse camera, blue tooth, dial facia clocks and LED driving lights and to finish it all off, the compulsory branded rear wheel cover.
Furthermore, other cutting edge technologies can be included as an option: for instance, a blank rear window sections and LED lights can be made available in bullet-proof glass; or there is also available a superior type of glass, more advanced than the sort of glass which was used to protect world statesmen.
Let's go back to the wheels, which are always something unique in Kahn's design language. They sit perfectly, on any vehicle, conveying the essence of the vehicle's identity. Moreover, they are created using state-of-the art manufacturing and materials technology. The so called Kahn RS wheels are available in 9 x 20 in silver or black and fit all original centre caps.
They carry simple clean lines, soft organic surfaces on the edge of the spoke and a purposeful mechanical centre, thus giving the Wrangler more elegance and innovation.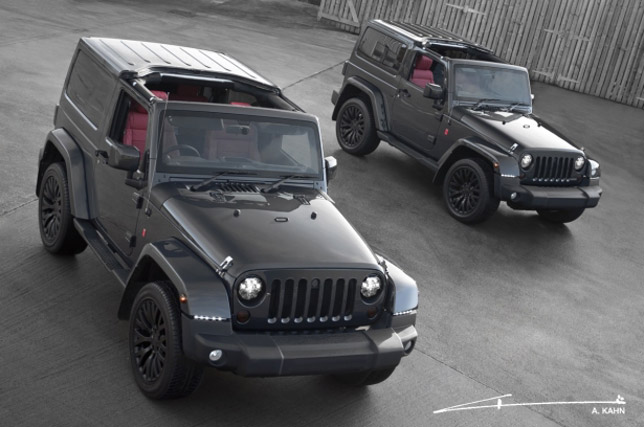 Source: Kahn Design