One-off Jeep Wrangler Sahara in Black Clearcoat is Kahn's next masterpiece

Kahn and Chelsea Truck Company unveil limited edition Jeep Wrangler Sahara that is available to buy
Did we miss something last Friday? Yes. If you follow us regularly, then you know that on this day of the week we are posting our dose of Kahn Design's tunings. What we have for you today is a project based on the Jeep Wrangler Sahara 2.8 Diesel 2DR. Chelsea Truck Company has also participated, thus making this limited edition truly limited.
Exterior
On the outside, the Wrangler Sahara CTC CJ300 LE immediately catches the eye with its effervescent Black Clearcoat paint scheme. After the initial amazement, one begins to notice that there is more that has been done on this vehicle. For instance, at the front the two new shadow chrome headlights find their selves on either side of the four-slot Chelsea Tuck Company grille with industrial mesh.
SEE ALSO: Kahn transforms Range Rover Evoque to unparalleled levels
The rear is governed by the Chelsea Truck Company spare wheel cover, while the sides are dominated by the door handles, mirrors and the fuel filler cap. The dramatic appearance is rounded out by the set of 17-inch Jeep 1941 DC wheels in Satin Black fitted with beefy 245/75/17" tyres. Not forgetting to mention that behind the wheels there are new brake calipers finished in Liquid Red, while the mud flaps entirely complete the stunning exterior.
Interior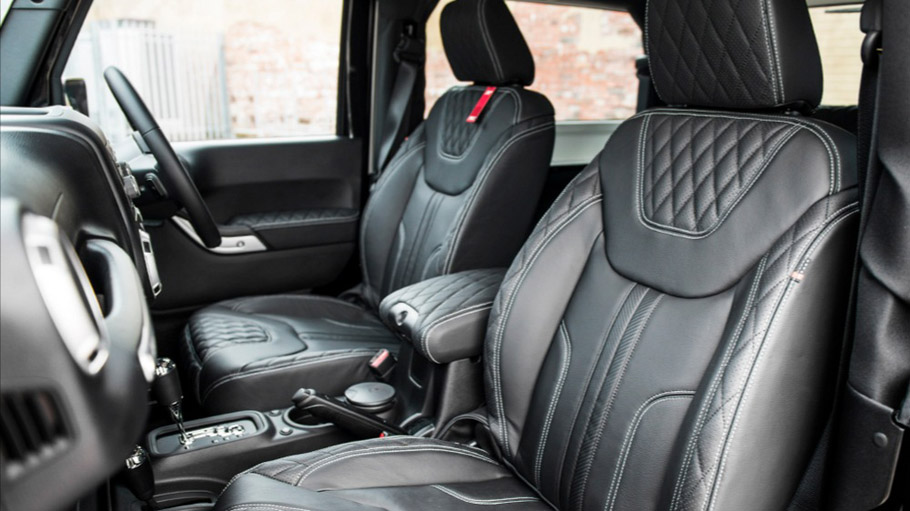 Behind the privacy tinted glass one finds wondrous interior. The upholstery is made of quilted and perforated Black Leather and features Silver Contrasting stitching. Even the centre glove box, arm rests and roof lining were made in the same design style. Below the waistline there are vented foot pedals in machined aluminium, door entry sill plates in stainless steel and mud flaps.
By the way, unlike many other Kahn projects, this particular Jeep Wrangler Sahara 2.8 Diesel 2DR CTC CJ300 LE edition can be ordered. In case you are interested, the price is £31,975.
Source: Kahn Design