JMS BMW 4-Series Coupe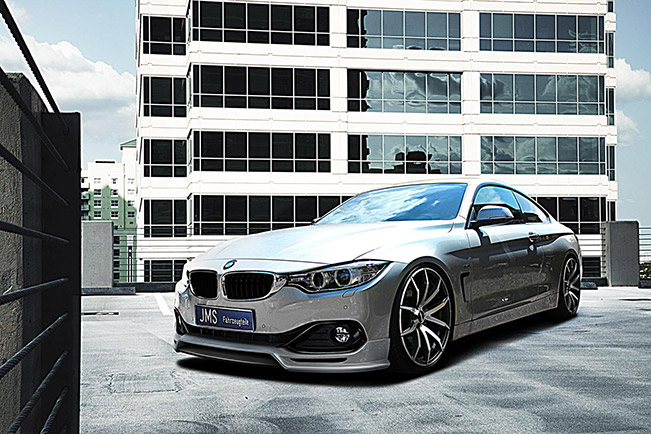 JMS has unveiled their latest tuning program for BMW 4-Series including Coupe, Convertible and GranCoupe models. The tuning specialists have prepared styling upgrades giving to the stylish BMW models even more aggressive appearance. There are also some performance tweaks as well.
The exterior boasts a new front lip spoiler and a set of 19" Tomason TN 12 alloy wheels fitted with ultra-low profile tires. JMS fitted the 4-Series Coupe with an adjustable KW coilover suspension lowering the ride height by 55 mm at the front and 45 mm at the rear.
Performance upgrades list include a complete sports exhaust system, a speed pedal (optimizing throttle response) and an ECU re-map for all models across the range.
No pricings and specific figures about power increasing are published, but all information is available upon request.
2014 BMW 4-Series is available in a wide range of petrol and diesel engines. These include 420i – a 2.0 liter with 184HP (135kW); 428i – a 2.0 liter turbocharged with 245HP (180 kW) and a 435i – a 3.0 liter turbocharged with 306HP (225 kW). The diesel range includes 420d – 2.0 liter with 184HP (135 kW); 425d – a 2.0 liter with 218HP (160 kW), 430d – a 3.0 liter with 258HP (190 kW) and 435d – a 3.0 liter twin-turbocharged diesel with 313HP (230 kW).
Source: JMS